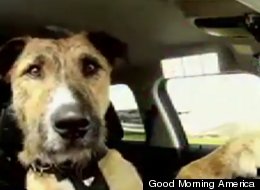 Move over, Toonces — meaning stick to your side of the road. If you're not familiar with Toonces, the Driving Cat, a recurring bit on Saturday Night Live, you can watch a clip of him here. Your real attention, however, should be fixed on that Cooper mini approaching you. The driver is a dog. And no, that's not a crass description of a female driver.
A video report from Newsy (below) reveals that three New Zealand dogs successfully passed their driving test last Monday. Don't worry: This is not the beginning of a canine revolution, where the road warrior bearing down on your rear bumper is a furry biped with a wet nose. Rather, it was a publicity stunt to get these and other homeless pups adopted by demonstrating that "rescue" dogs can be trained do just about anything and make great pets.
The dogs underwent two months of training in modified cars. Said their trainer, Mark Vette, as a 10-month-old bearded Collie mix named Porter started his road test:
It's all the dog doing it. He's started the key, put the paw on the brake to allow it to go into gear, put it into drive, paw on the steering wheel, accelerator on, and off he goes down the track.
The cars were retrofitted with paw-friendly handles on the steering wheels and dashboard-height brakes. A speed "governor" was installed as well, to make sure the cars couldn't accelerate beyond a walking pace.
The consciousness-raising angle was successful, at least with respect to Porter and classmate Monty, a giant Schnauzer. A number of people contacted the Auckland SPCA about adopting the two dogs.
Not to sound cynical, but I wonder if these people are merely looking to hire their own chauffeur on the cheap.
Related Articles