Alan Gross, the American prisoner held in Cuba, won't be released soon; he was arrested on December 3, 2009, and sentenced to 15 years in prison.
US official rejects Cuba's offer to swap contractor Alan Gross for 5 Cuban spies
Cuba's offer to swap U.S. government subcontractor Alan Gross for five Cuban spies convicted in Miami is not at all acceptable to Washington, a senior State Department official affirmed Monday on the third anniversary of Gross' arrest.

Asked directly if a Gross-for-spies swap might be possible during President Barack Obama's next four years in the White House, the official replied, "No, I don't think so."

"We reject the notion of linkage," added the official, who met with several journalists in Miami but asked for anonymity under State Department procedures. "There is no parallel between the two cases."
The US has put very little pressure on Cuba. Historically, the Communist regime ignores "pressure."
Gross's supporters
called Friday on the U.S. government to send a high-level envoy to Havana and seek release of the ailing humanitarian worker.

The Gross family is also suing both the U.S. Agency for International Development and its contractor DAI, which sent him to Cuba, charging they failed to properly train and prepare him for a mission they likely knew was high-risk and possibly violated Cuban laws.

Neither agency has paid his salary to his wife and family while he has been for three years sharing a small cell with two other prisoners in a Cuban military jail for handing out Internet hardware and software to the small Cuban Jewish community — a USAID project aimed at moving the communist-ruled island nation toward democracy.
Alan Gross, 63, has lost over 100lbs and has a large lump growing on his back, which under the "excellent free healthcare" Cubans endure are considered "chronic illnesses that are typical of his age."
Or, as they say in Cuba, achaques de la edad.
This is what he looked like before his imprisonment,
This is what he looks like now,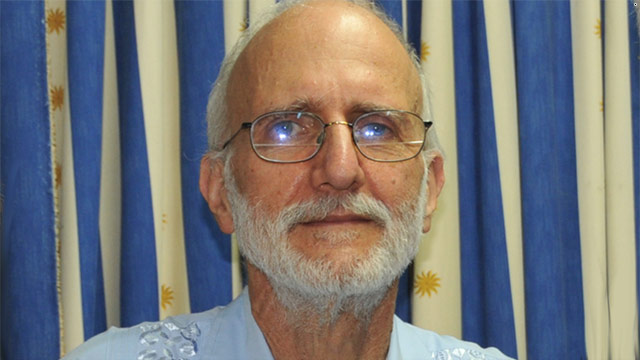 The Obama administration's handling of the Gross case telegraphs a message. Ben Barber:
When I served on U.S. aid projects overseas in places such as Yemen, Egypt and Pakistan, I was certain that in case I should be kidnapped or arrested that the U.S. government would stand by me and my colleagues in the field. Failure to do so in the case of Gross sends a devastating signal to thousands of Americans working overseas on U.S.-funded assistance projects.

In fact when I searched the USAID website for evidence it has vigorously tried to help Gross get out of jail, I found only one bland paragraph inside a speech before Congress by the Latin America assistant administrator Mark Feierstein on March 29.
Smart diplomacy, so smart it reminds us of Benghazi.
Cross-posted at Fausta's blog.