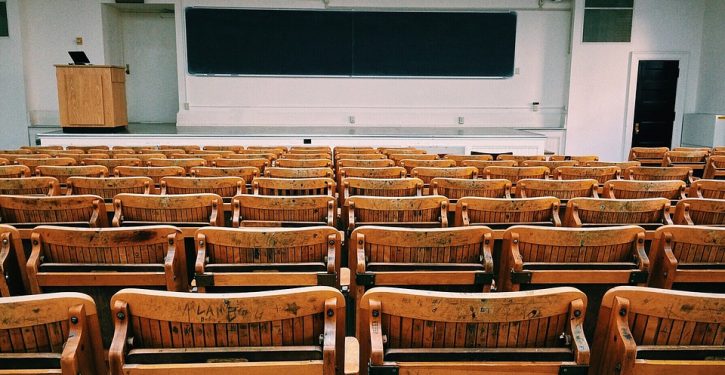 12 colleges and universities in Oklahoma have been accused in a federal civil rights complaint of participating in a STEM program that excludes white, Asian and Middle Eastern students, reports The College Fix. The program, funded by the National Science Foundation, requires racial discrimination in violation of Title VI of the Civil Rights Act.
Do No Harm, a nonprofit group opposed to woke ideology in healthcare, filed the complaints over the colleges' participation in the Oklahoma Louis Stokes Alliance for Minority Participation Program. The complaints have been filed with the Education Department's Office for Civil Rights (OCR), but that does not guarantee an investigation will take place. (In 2017, the Office for Civil Rights ruled against a scholarship program that excluded whites, but that was during the Trump administration, which allowed civil-rights officials to issue such rulings. The Biden administration rescinded some rulings against racial discrimination in 2021 after Biden issued an executive order on "racial equity." The result was that some schools got away with excluding whites from certain student activities.)
Senior Fellow Mark Perry, a frequent filer of Title IX and Title VI discrimination complaints, filed the complaints against the 12 Oklahoma colleges and universities. He notes that the 12 complaints are in the "evaluation stage" and have been acknowledged as received by OCR.
Students "must identify as an underrepresented minority from the following groups African American, Hispanic, Native American, Native Hawaiian or Pacific Islander," according to a brochure.
The purpose of this program is "increasing the number of students from under-represented populations who receive degrees in Science, Technology, Engineering, and Mathematics…disciplines."
The STEM program is funded with money from the National Science Foundation, which lists all 12 colleges and universities in its grant award.
The leader of Do No Harm, former University of Pennsylvania medical school professor Dr. Stanley Goldfarb, told The College Fix via email recently that this program was illegal due to its exclusion of Middle Eastern and white students.
Goldfarb says, "Oklahoma universities created a specific program called the OK-LSAMP program to 'increase recruitment, enrollment, and retention of minority students in STEM programs'. They specifically exclude white students, students from middle eastern countries, and Asian students. This program is proudly announced on University websites but it is illegal to engage in such discrimination based on race."
"It just shows how a focus on diversity as an overriding value leads to discriminatory activities," Goldfarb said, when The College Fix asked him why whites and Asians were excluded; "the long-term result of such activities is to produce resentment, divisiveness and diminishes the achievements of minority students who can thrive without such discrimination."
Goldfarb noted that this kind of discrimination against whites and Asians has been well-documented not just in STEM but many other fields as well.