For his next trick…
When asked by NBC's Andrea Mitchell to react to Nancy Pelosi's recommendation yesterday that Joe Biden not debate Donald Trump, Biden replied that he would willing to debate as planned so long as there was a fact-checker present.
It had been recommended to me by a number of very competent people who know their way, including leading Republicans, that I should not debate Trump unless there's a fact checker on the ground, in their … in the debates, saying "That's true," "that's not true."
What the former vice president should really hope is that the fact checker won't assess his own claims, especially since, besides his lengthy history of inventing facts, he went on in the same interview to give utterance to two really preposterous assertions. Watch:
Trending: Court blocks coronavirus vaccine mandate for California prisons
Trump "screwed up" the good economy he inherited from the Obama-Biden administration? That will be news to most Americans who, prior to the onset of the COVID-19 pandemic, witnessed one of the most robust economies in the history of the nation. Yes, Obama inherited a recession from which the economy eventually recovered. But as this chart from a House Joint Economic Committee report using data from the Bureau of Labor Statistics reveals, unemployment more than doubled during Obama's first two years in office, then slowly fell over the next six to a level still higher than the one he inherited. All thing considered, it was the slowest economic recovery in the history of the nation. As for Trump's "screwing it up," under his stewardship, unemployment continued its downward path through 2019 while the stock market and consumer confidence soared to unprecedented highs.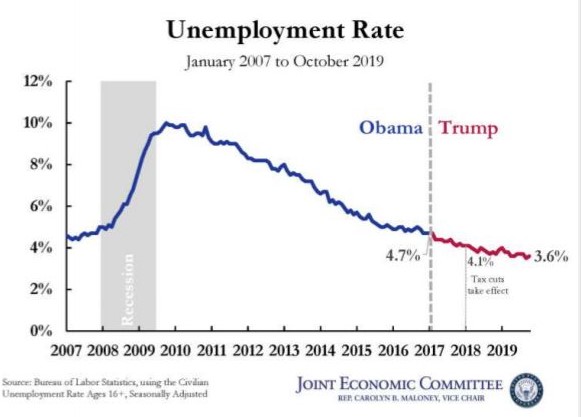 Biden's second whopper is his claim that "for the past four years we weren't having … racial riots." Presumably, he is referring to the last four years of the Obama presidency, but he is still dead wrong. Not only was there rioting, looting, and mayhem in Ferguson, Mo., following the death of Michael Brown in 2014, but even worse pillaging in Baltimore, which over the duration of Obama's second term, devolved into one of the most dangerous cities in America.
Not only that, but Obama's "blame-police first" mentality resulted in the assassination of some dozen police officers as they sat in their cruisers.
By all means, bring on the debates, and invite a disinterested "fact checker" (good luck finding one of those!) to referee. If an honest broker can be found, Biden will find he has almost no time to speak once his lies begin to be batted down.