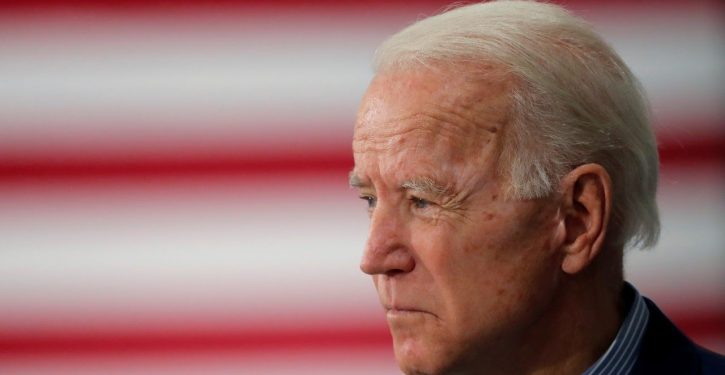 Last August, when Joe Biden's third and final bid for the presidency seemed destined to crash and burn, one rarely heard voice in the Biden camp offered this rationale for voting for him. "Your candidate might be better on, I don't know, health care, than Joe is, but you've got to look at who's going to win this election. And maybe you have to swallow a little bit and say, 'OK, I personally like so and so better,' but your bottom line has to be that we have to beat Trump."
That less than ringing endorsement came from Biden's wife, "Doctor" Jill Biden (Ed.d). I would have bet my bottom dollar at the time that Biden's campaign would go the way of his first two attempts to win the Democratic nomination — that one of the other far-left attractions would came away with that prize. But those candidates managed to cancel each other out, and one global health and economic crisis later, here we are. Biden is currently ahead of the incumbent in the polls, and the latest betting odds have him up by double digits.
So America is faced with a question no one is asking but that one or another pollster should ask: Can you vote for Biden without holding your nose? Phrased differently, "Do you know what you're getting America into by pulling the lever for a man with virtually no track record who will be older on Inauguration Day than Ronald Reagan — America's oldest president — was the day he left office?"
As conservative pundit Bernard Goldberg notes in a piece titled "Why I want Biden to lose more than I want Trump to win":
Trending: Was Joe Biden wearing a 'wire' during last night's debate?

It's not exactly a bulletin that Joe Biden is a puppet candidate. I don't think he has a clue as to what he stands for. His political team puts words in his mouth and on a good day he repeats them without forgetting what he's talking about. Be assured that if Biden wins, Bernie Sanders and AOC will be running the show.
A Rasmussen poll confirms that point of view. It reveals that 59% of Americans think Biden is unlikely to finish a four-year term in the White House. Even 49% of Democrats have their doubts, and that includes Biden himself, who said in June that he is looking for a VP candidate who would be "unquestionably qualified" to "step in" if necessary.
Goldberg goes on to assert that Biden, a lifelong centrist, is now packaging himself as a progressive. The former vice president delusionally maintaining that he has as always been "labeled as one of the most liberal members of Congress." Regardless of that, if he is elected, his string pullers will ensure he runs at the far-left extreme of the ideological spectrum. As to what that means, we are currently getting a taste:
For two months we've been witnessing chaos and destruction in Portland and other cities run by progressive Democrats, yet no one in the Democratic Party will stand up and condemn the violence as if they really mean it.
Attorney General Bill Barr takes the argument a step further. The U.S. is now grappling, he suggests, with a new form of "urban guerrilla warfare" driven by the Left's "lust for power."
If Biden does in fact win, some voters will welcome this "fundamental transformation" of America that is sure to come. Certainly the Democrats currently in power will.
But the remainder of the citizens may not be aware of what they are signing on to. Maybe in fairness, someone should let them know.