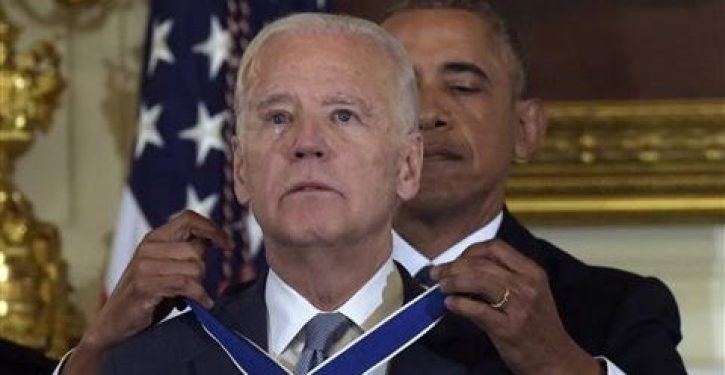 Although Barack Obama claimed often to aspire toward transparency during the eight years of his presidency, the only times he was ever truly transparent was when he didn't mean to be. Like now.
Today at long last he officially endorsed his former vice president for president. He tried to make the endorsement sound heartfelt, assigning all the right virtues to the man. At one point in the speech, he suggested for example that Biden will restore "grace" and "humility" to the White House. Grace? Seriously, that's the best he could come up with?
I'm proud to endorse my friend @JoeBiden for President of the United States. Let's go: https://t.co/maHVGRozkX

— Barack Obama (@BarackObama) April 14, 2020
Trending: Gas shortages around East coast as pipeline operator works to reopen
The genuine motivation behind the endorsement — the hope that it would help unify the party — is as obvious as Obama's previous refusal to touch his former veep with a ten-foot pole.
His reluctance was understandable. Throughout his two terms in office, Obama was forced to endure a loose cannon, never knowing what Biden would do or say next. He was mortified when Biden acknowledged — loud enough to be picked up press microphones — that the signing of the Affordable Care Act was a "big f*cking deal." And he probably wasn't terribly thrilled to see news footage of his 70-year-old second in command nodding off during a speech Obama had given.
In the past, whenever the topic of why Obama hadn't endorsed him arose, Biden would offer the ridiculous claim that he had asked his former boss not to.
Early in his campaign, Biden received non-endorsement after non-endorsement from the left-leaning media. In November 2019, for example, "The Nation" wrote, "His long record of poor judgment and cozying up to bankers make him the wrong candidate to take on Donald Trump." One wonders how far from that sentiment Obama's own real views are.
Brad Parscale, Trump 2020 campaign manager, responded to the announcement of Obama's endorsement on the campaign website, writing:
Barack Obama spent much of the last five years urging Joe Biden not to run for president out of fear that he would embarrass himself. Now that Biden is the only candidate left in the Democrat field, Obama has no other choice but to support him. Even Bernie Sanders beat him to it. Obama was right in the first place: Biden is a bad candidate who will embarrass himself and his party. President Trump will destroy him.
And Obama is helpless to do anything beyond sit and watch.