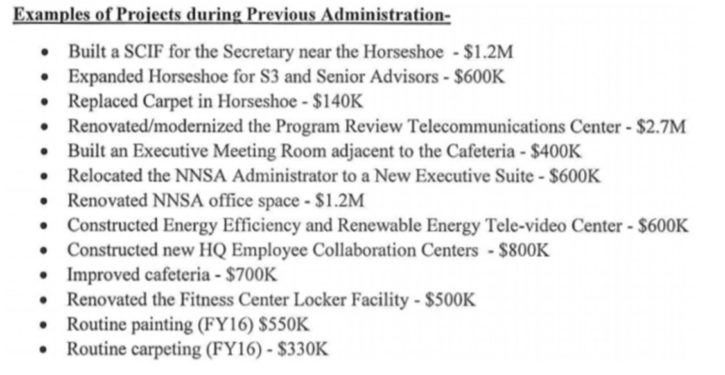 Energy Secretary Rick Perry notified Congress he spent just under $10,000 to refurbish his and his deputy's office, according to letters sent to lawmakers Friday evening, which by The Daily Caller News Foundation obtained.
Perry spent $4,652 reupholstering furniture and painting his office, while Deputy Energy Secretary Dan Brouillette spent $4,993 doing much of the same to his office. Perry sent the letters to Congress out of an abundance of caution.
The Environmental Protection Agency violated federal law by building a $43,000 secure phone booth, or SCIF, and not notifying Congress,The Government Accountability Office (GAO) ruled on April 16. Effectively, GAO redefined a SCIF as office furnishings and improvements, expanding its previous interpretation of federal laws.
"In the interest of transparency, this letter serves to inform you of the recent renovations and the Department's concerns related to the GAO's opinion," Perry wrote to Sen. Lamar Alexander, a Tennessee Republican and chair of the subcommittee overseeing Energy Department funding.
GAO "expanded the scope of this provision to apply to virtually any expense associated with a Presidential appointee's office space," to include even SCIFs — not exactly office furniture, Perry said. Before April, federal officials didn't consider spending on, say, security requirements, like SCIFs, to require congressional notification.
A separate letter was sent to Alexander's House counterpart, Idaho Republican Rep. Mike Simpson. Federal laws require executive agencies to notify Congress of office expenditures of more than $5,000.
Perry's letter also detailed nearly $3.3 million in renovations to the Forrestal building, the department's D.C. headquarters. Perry did not previously report these expenditures to Congress because they did not meet the definition of office furnishings under federal law — that is, until GAO issued its ruling.
"This opinion on Section 710 has created ambiguity and uncertainty on what does and does not need to be reported when updating our building in the future," the Energy Department said in an accompanying statement.
Included were renovations to staff offices, a new reception area and a conference room. The sheer cost of renovating the Energy Department headquarters illustrates the high cost of maintaining older federal buildings in Washington, D.C.
However expensive Energy Department renovations under Perry may seem, Obama's administration spent much more in the eight years it controlled the executive branch. Perry gave a short list of examples of Obama Energy Department projects.
A sampling of Obama administration Energy Department renovations to the Forrestal building comes out to more than $10.3 million.
This report, by Michael Bastasch, was cross posted by arrangement with the Daily Caller News Foundation.