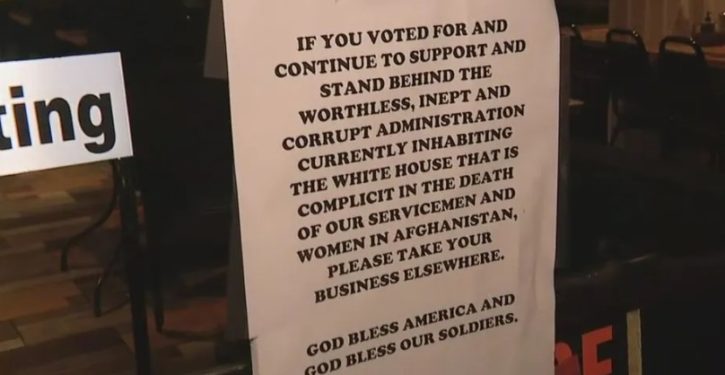 [Ed. – We understand and sympathize with the owner's feelings. Emotions right now are understandably raw, especially among military veterans and their supporters. But we found it deplorable when Trump cabinet members were heckled in restaurants, and this behavior to be no less out of place. There are more constructive ways for showing disapproval of the current administration.]
The DeBary Diner is turning heads with a sign posted on the front door.

It reads, "If you voted for and continue to support and stand behind the worthless, inept and corrupt administration currently inhabiting the White House that is complicit in the death of our servicemen and women in Afghanistan, please take your business elsewhere."

"It was the only thing I felt like I could do," said the restaurant's owner, Angie Ugarte.

Trending: When words fail, say it with fists. When fists fails, play the race card

Ugarte says she posted the message the same day 13 service members were killed in Afghanistan.

"I was just angry. I was just let down. I felt like one of those mothers, or wives, or sisters who were gonna get that knock on the door," she explained.

Ugarte, who's been running the Debary Diner for about five years, says a lot of her regular customers are vets.