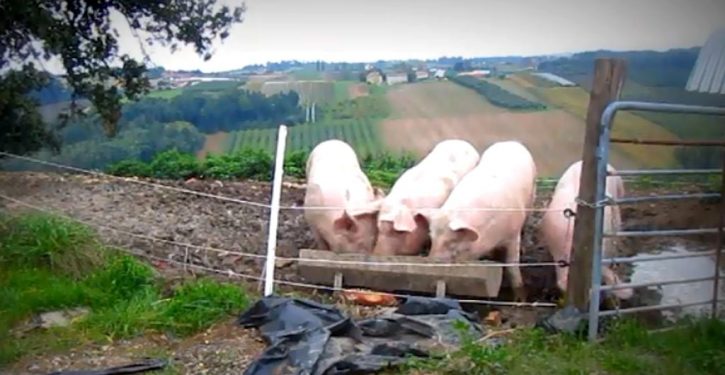 [Ed. – Not everyone voted for this proposition.  Some of us actually read it, and realized that since it applied to farm conditions anywhere in the country, if products sold in California come from there, it would mean they could not longer be sold in California.  This measure is likely to drive up pork product prices across America, if most producers choose to comply rather than lose California business, which accounts for about 15% of pork products sold.  Pigs in France are probably not an issue, but the feature image is the one we have on file for farm pigs.]
Jeannie Kim … fears her breakfast-focused diner [in San Francisco] could be ruined within months by new rules that could make one of her top menu items — bacon — hard to get in California.

"Our number one seller is bacon, eggs and hash browns," said Kim, who for 15 years has run SAMS American Eatery on the city's busy Market Street. "It could be devastating for us."

At the beginning of next year, California will begin enforcing an animal welfare proposition approved overwhelmingly by voters in 2018 that requires more space for breeding pigs, egg-laying chickens and veal calves. National veal and egg producers are optimistic they can meet the new standards, but only 4% of hog operations now comply with the new rules. Unless the courts intervene or the state temporarily allows non-compliant meat to be sold in the state, California will lose almost all of its pork supply, much of which comes from Iowa, and pork producers will face higher costs to regain a key market.
Trending: As feds buckle under border influx, Abbott surges TX forces to shut 6 crossing points; awards contract for border wall