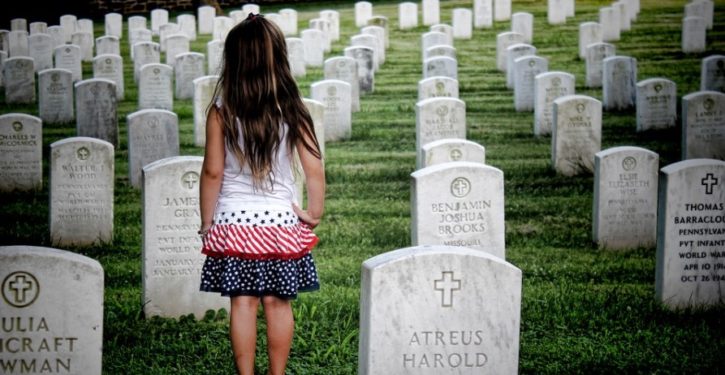 [Ed. – Hear, hear.]
Every headstone in cemeteries across our nation and around the globe tells a story.

The letters etched upon those stones are the names of mothers, fathers, wives, husbands, daughters and sons. Far too many lived short lives — fighting and dying for the peace, freedom and opportunities we enjoy as Americans.

Whenever I walk through the sacred grounds of our national cemeteries, I pause and read the names aloud, my way of ensuring I never forget the ultimate sacrifice these patriots gave in defense of freedom.

Trending: At age 15, Beto O'Rourke wrote a short story fantasizing about killing children, mass murder

On Memorial Day, my wish is that all Americans take the time to remember the sacrifices of these heroes by saying their names aloud. Saying the names of these men and women keeps their memory alive — the memory of their service, commitment, dedication and love of country. It reminds their families that we continue to stand with them.