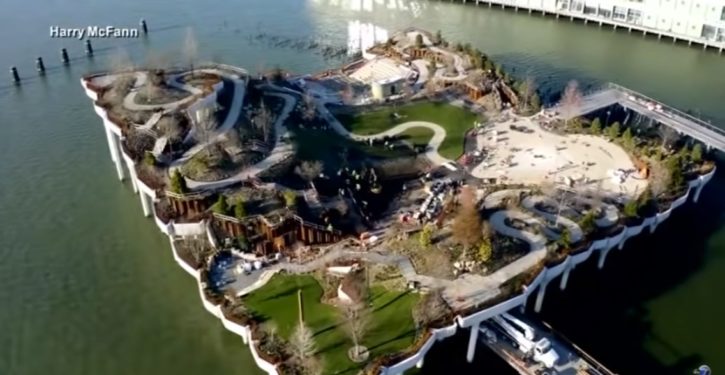 [Ed. – Hard to be curmudgeonly about, although it does come off as a trifle frivolous.  A Barry Diller/Diane von Furstenberg collaboration has an oddly antiquated ring to it (though both are alive and, as far as I know, well).  The "tulip-shaped" pylons are being universally panned as "giant golf tees."]
The public park on New York City's Hudson River finally opened on May 21 nearly seven years after plans were unveiled, thanks to billionaire media mogul Barry Diller, whose $260 million donation has further transformed the once-derelict West Side of Manhattan.

The island was built on the pillars of the former Pier 54, connected to Manhattan by a walkway that will take visitors from the trendy Meatpacking District to the site where survivors of the Titanic were taken and from where the Lusitania departed.

The West Side, once dominated by a bustling port, deteriorated into industrial eyesores and homeless camps before a revitalization this century converted much of it into magnificent parkland.
Trending: At age 15, Beto O'Rourke wrote a short story fantasizing about killing children, mass murder