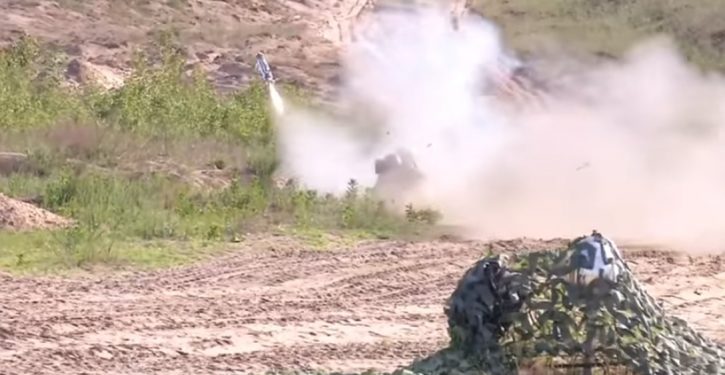 [Ed. – It's like a multiple choice test where you're groping in the dark and all you can do is use the rule of "C" — i.e., between A, B,C, and D, C is statistically the most likely answer.  Ukraine's high estimate of Russian troops on the border was 175,000.  NATO's at the same time was 150,000.  The U.S. said, at the same time, that we couldn't confirm it was as many as 150,000.   Anywhere between 125,00 and 175,000 would be overly sufficient for a gradual infiltration of Donbas relying on in-country separatists.  300,000, properly armed, is more than enough for a conventional invasion with field maneuvers to take vast swaths of territory.  Is Russia doing info ops of her own?]
Hundreds of thousands of Russian troops have returned to their permanent bases after conducting military exercises near the Ukrainian border, but military officials denied that criticism from the West had anything to do with the pullback.

The military drills escalated tensions between Russia and Ukraine, raising concerns that a war could break out. In a meeting with military officials, General of the Army Valery Gerasim said more than 300,000 troops were part of the exercises that included 35,000 units of weapons, 180 ships and boats, and about 900 aircraft.

As of Thursday, all but one military echelon had returned to their permanent base, according to Russian military officials. Russian commanders told a meeting of armed forces officials that weapons and other equipment would be transported back to their appropriate locations by May 12.
Trending: College students required to detail sexual history before registering for classes