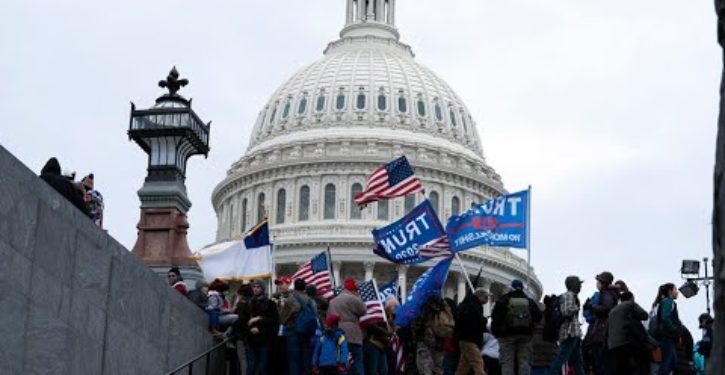 [Ed. – Julie Kelly regularly reminds us there are people being held without bail on misdemeanor charges from the Capitol riot.  Yet in Portland and other locations, an equal number of violent rioters, looters, vandals, and arsonists commit felonies multiple times each month and are never even arrested or charged.  That unequal justice situation will destroy us at some point.]
Joe Biden's Justice Department wants to keep Richard Barnett in jail—indefinitely.

The Arkansas man, photographed showboating inside House Speaker Nancy Pelosi's office on January 6, has been behind bars for more than three months. Barnett occupied Pelosi's office for six whole minutes; he absconded with a piece of mail and left her a note that read "Nancy, Bigo was here, you Bitch." …

[…]

Trending: College students required to detail sexual history before registering for classes

Despite the fact Barnett didn't assault anyone, vandalize government property, attack a police officer, pose any sort of lethal danger to lawmakers, let himself be photographed and interviewed by reporters, and cooperated with law enforcement, Biden's Justice Department continues to treat him as a hardened criminal. The new acting U.S. attorney overseeing the agency's sprawling manhunt filed a motion late Monday to keep Barnett incarcerated for at least another month.