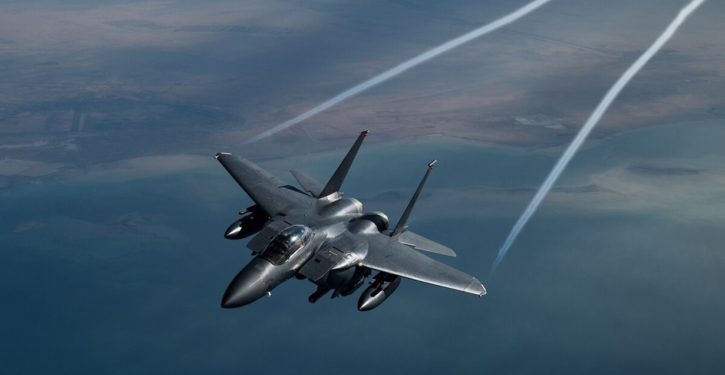 [Ed. – It's doubtful this was just one F-15E.  Normally they'd sortie as a two-ship.  I'm kind of skeptical about constantly targeting ISIS in Salah-al-Din, where we've been attacking small ISIS outposts since 2015.  How stupid are these guys to stay there and keep getting wiped out?  At any rate, it appears we're back in the "ISIS attack" business.]
At least one U.S. Air Force F-15E Strike Eagle was "part of Coalition Forces which conducted air strikes at request and approval of Government of Iraq," a defense official told Military Times Saturday afternoon.

The jets took part in a combined air and partner ground operation against ISIS targets in Iraq's Salah-al-Din Governate, according to a tweet from Yahia Rasool, spokesman for the Iraqi Ministry of Defense.

The attacks, in the Wadi al-Tharthar and Mutaybija areas north of Baghdad, destroyed two ISIS camps and two caves, killing at least two ISIS fighters, Rasool tweeted.
Trending: CDC Says Natural Immunity Outperformed Vaccines Against Delta Strain