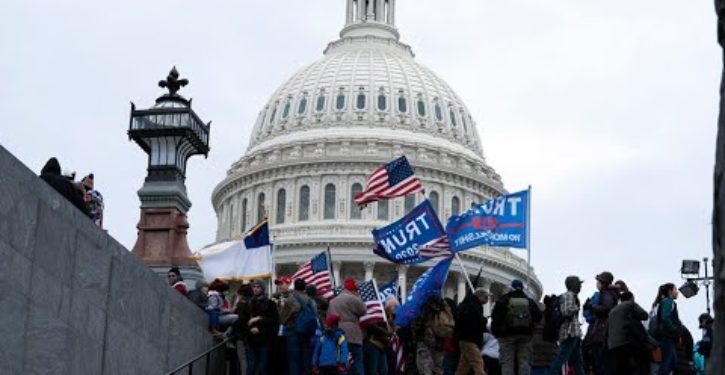 [Ed. – Kelly gets at what keeps bothering me.  No "militia" member yet indicted is charged with the violent entry described by the former Chief of the Capitol Police.  Indeed, hardly anyone is.  But video evidence suggested at least 200-300 were involved.  Where are all the suspects for that aspect of the riot — the advance force that actually broke into the Capitol?]
Attorney General Merrick Garland compared January 6 to the 1995 Oklahoma City bombing; the investigation into what happened on January 6 is his top priority. Defense Secretary Lloyd Austin is rooting out "extremists" in the military.

But despite the incessant scaremongering, little evidence exists to make the case that armed groups of organized, violent domestic extremists attacked the Capitol.

One group often mentioned by the media and government officials as an insidious domestic threat is the Oath Keepers.

Trending: Washington DC Requires Nude Strippers To Be Masked, Clubs Warned About 'Staff Not Wearing Masks'

[…]

Their grand conspiracy is based on text messages and travel arrangements made before January 6. …

In addition to the conspiracy and obstruction count, each Oath Keeper is charged with entering "restricted grounds." …

Yet only one charge—destruction of government property and the aiding and abetting of it—remotely could be considered an act of violence and the government's evidence of that flimsy charge is absurd. No Oath Keeper is accused of smashing a window or stealing government property or leaving a mark anywhere inside the Capitol.