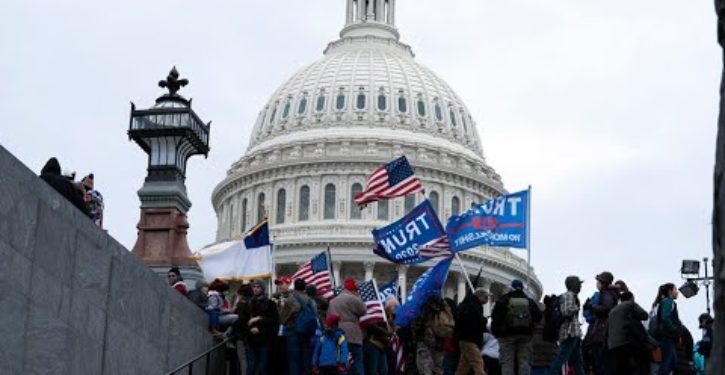 [Ed. – As with all eyewitness accounts, caveats apply.  We assume readers know how to filter and process.  It's an interesting and important account.]
I heard a firsthand account from a fellow Missourian who was in attendance — at the rally, and later, near enough to the Capitol to observe a lot of what went down in the early moments of the chaos there. … I thought it would be worthwhile to simply share this man's story.

"William" joined the Marc Cox Morning Show on 97.1 FM Talk this past Friday. I hope you'll take a few minutes and listen — it's pretty compelling to hear it in his own voice. But for those who'd prefer to read it, here is a transcription of his interview (which starts at about the 13:56 mark):

Mike Ferguson (subbing in for Marc Cox): Okay, this is going to be an interesting conversation here …

William: Good morning, guys … I want to start out by saying no, I did not go inside the Capitol. I would not go inside the Capitol. I am a patriot — we went to Washington D.C. to support our president; we did not go to storm the Capitol. I left Trump's speech, in the middle of his speech, because my wife got cold. …

[..]

[William]: I will start out by telling you that I was close enough to touch the Capitol wall. I was 5 feet from one of the outside infiltrators that was trying to put a pipebomb inside the water system of the Capitol. Here's what I will tell you, what I saw and what the people need to know. Yes, Trump supporters went to the Capitol; they went inside the Capitol, but we were infiltrated by an organized operation. And, I'll tell you why, but yes it included Capitol Police, people were filming it. When I got to — when that guy — we actually tackled that guy that was trying to put a pipe bomb into the pipe and handed him over to the police. 45 minutes later, that same guy was up on the Capitol, helping people climb the wall. So, that's why I say that — they released him — they were involved.