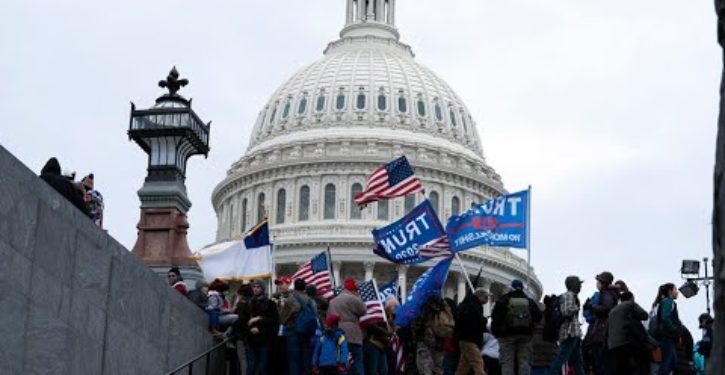 [Ed. – A story worth hearing.  Remember, they didn't know exactly what was going on or who was trying to come through the doors.  They weren't carrying either, in the House chamber.  They had to break furniture to make weapons for themselves.  Hat tip to LU reader/commenter "aez."]
Rep. Pat Fallon (R-TX) describes what happened inside the House today:

I JUST SAW COURAGE PERSONIFIED!!

We were in the middle of debate when the Capitol Police came into the chamber and told us there had been a breach in the Capitol Building. At first they wanted us to remain in our seats in the House Chamber. The breach must have gotten worse because they started to evacuate. Then the mob literally reached the doors of the House Chamber and the Police were short handed and I AM SO PROUD that Rep Tony Gonzalez [sic], Rep Ronny Jackson, Rep Troy Nehls [all TX] didn't hesitate!!! We augmented the Police and stood our ground! …

Trending: Report: Defector provided U.S. DIA with China's copy of Hunter Biden laptop contents

The mob reached the actual doors to the House Chamber and there was visible concern on everyone's faces and yet we stood our ground. Tony Gonzalez and Troy Nehls were literally on the front lines with myself and Admiral Jackson directly behind them and beside Rep Mark Wayne [sic] Mullin [OK] (who promised he'd be the last person to leave-standing guard while other members, both Democrats & Republicans were being evacuated to safety) and Ken Buck from CO was there as well. We broke off furniture to make clubs to defend the US House of Representatives.

Ronny looked over at me and declared, "I'm not going anywhere!" Tony and Troy looked back and nodded reassuringly. …

Please pray for a peaceful resolution. We must condemn any and all violence. We don't yet know the facts yet.