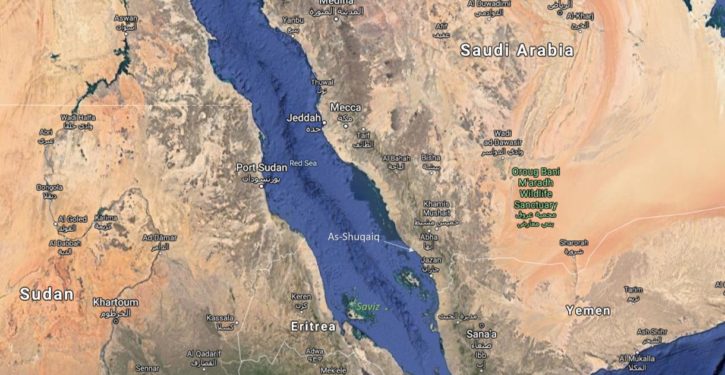 [Ed. – If so, an attack in port Jeddah — within Saudi waters — would be a significant escalation by the Iran-backed Houthis of Yemen.  Robot-boats – remotely controlled – have been identified trying to attack ships in the Red Sea in recent months, but this would be the first known boat attack in a Saudi port this far north.  Reporting in late November indicated a robot-boat attack near As-Shuqaiq, Saudi Arabia (see map), much closer to Yemen, and two days before that an attempt with a cruise missile on the port of Jeddah.  The targeting for a robot-boat in Jeddah would require a relatively sophisticated comms architecture and some means of surveillance (drone?).  A disturbing development.]
On Monday, December 14, 2020, a fuel tanker, the Singapore-flagged BW Rhine, was hit with an explosion while unloading at the Jeddah port in Saudi Arabia on the Red Sea. The resulting fire was extinguished, and the crewmen were rescued. The Red Sea is a crucial shipping route between the narrow Bab-el Mandeb and the Suez Canal, and recently, ships have been sailing the gauntlet avoiding terrorist acts, mines, and remotely-steered explosive boats. It is believed that the Rhine was hit by a robot boat, probably steered by Houthis, a Yemenite Shiite military movement serving as Iran's proxy and at war with Saudi Arabia.

[…]

The Houthis have been involved in the recent attacks and minings, but instructions and intelligence are believed to be transmitted from a "mother ship," the Savitz, anchored in the Red Sea some 645 kilometers south of Jeddah and 200 kilometers west of the Yemen port, Hudaydah.
Trending: Judge forces schools to require masks, citing disabilities-rights laws