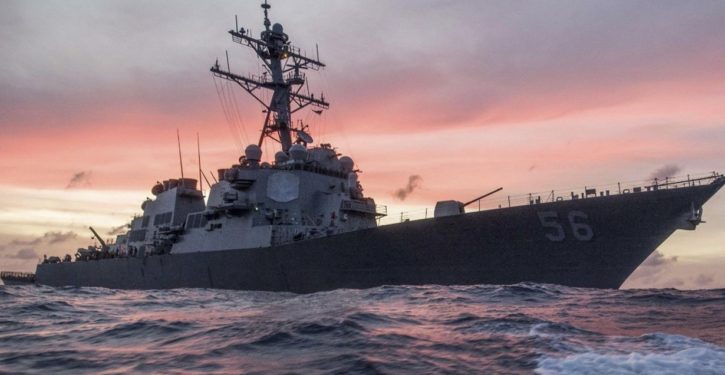 [Ed. – We don't do this every day.  In fact, we haven't challenged this straight-baseline claim of Russia's – an excessive one under the Law of the Sea – for quite some time.  The Seventh Fleet press release doesn't say, but I don't recall it being done in the last 25 or even 30 years.  This is very interesting.  The Trump administration is looking awfully lively for such a lame duck.]
PETER THE GREAT BAY – On Nov. 24 (local time) USS John S. McCain (DDG 56) asserted navigational rights and freedoms in the vicinity of Peter the Great Bay in the Sea of Japan. This freedom of navigation operation ("FONOP") upheld the rights, freedoms, and lawful uses of the sea recognized in international law by challenging Russia's excessive maritime claims.

In 1984, the U.S.S.R declared a system of straight baselines along its coasts, including a straight baseline enclosing Peter the Great Bay as claimed internal waters. This 106-nautical mile (nm) closing line is inconsistent with the rules of international law as reflected in the Law of the Sea Convention to enclose the waters of a bay. By drawing this closing line, the U.S.S.R. attempted to claim more internal waters – and territorial sea farther from shore – than it is entitled to claim under international law. …

The Russian Federation's statement about this mission is false. USS John S. McCain was not "expelled" from any nation's territory. McCain conducted this FONOP in accordance with international law and continued to conduct normal operations in international waters.
Trending: Stowaway Hid In Wheel Well Of Plane During Flight From Guatemala To Miami