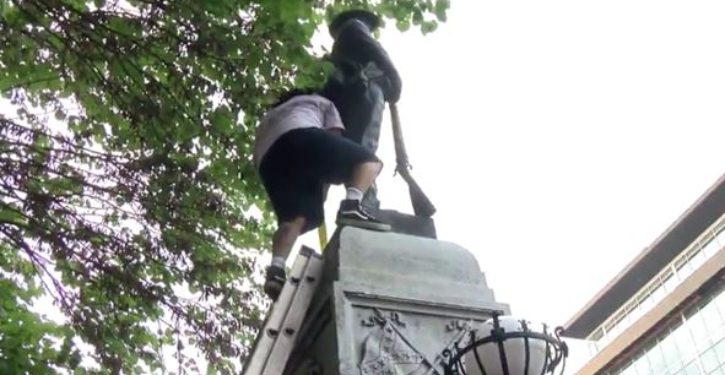 [Ed. – Considering that one of the statues toppled was a tribute to fallen soldiers, not a glorification of Confederate ideals, this blanket permission seems ill-advised. To give  further indication of how wrong-headed the move is, consider that James Comey called it 'a great day for Virginia and another reminder that elections matter.']
Governor Ralph Northam signed new laws Saturday that give localities the power to remove or alter Confederate monuments.

Starting July 1, localities can remove, relocate, or contextualize their Confederate monuments how they see fit.

Now Charlottesville can decide if they want to remove the statue of Robert E. Lee in Market Street Park, something people in Charlottesville have been fighting for, for a long time.

Trending: Great Replacement Theory is fueled by woke progressives gloating about America becoming non-white

Albemarle County can also decide if they want to remove their Confederate statues in Court Square.

Virginia will begin to remove and replace its Robert E. Lee statue that is in the United States Capitol.

"These monuments tell a particular version of history that doesn't include everyone," Governor Northam said. "In Virginia, that version of history has been given prominence and authority for far too long."

Northam also signed new laws that remove racist and discriminatory language from Virginia's Acts of Assembly.