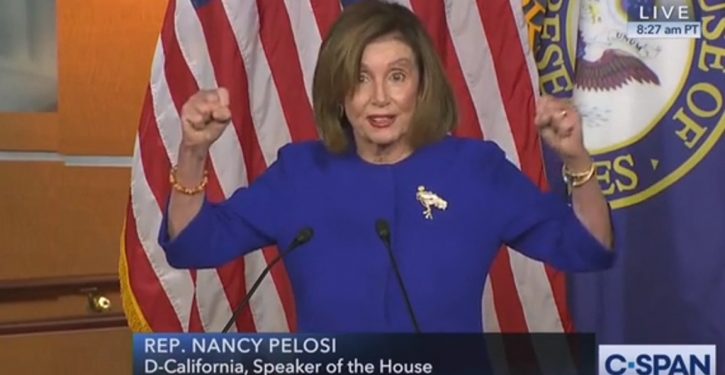 [Ed. – Smart move. Sitting on articles of impeachment for one month certainly endeared her to her party.]
Speaker of the House Nancy Pelosi (D-CA), who tried over the weekend to derail a bipartisan, multi-trillion dollar coronavirus relief package by introducing her own handout-packed 1,400 page bill, has already gaveled the House of Representatives out of session Wednesday and will not commit to bringing a Senate bill, passed in the wee hours of Tuesday night, to a vote.

In an statement issued Tuesday night, Pelosi said merely that "House Democrats will now review the final provisions and legislative text of the agreement to determine a course of action," but stopped short of committing to bring the hard-fought bill, which was negotiated over the course of five days, in two rounds — one over the weekend and one in session Monday and Tuesday — to the floor of the House for a vote, leaving the legislation, which could mean economic survival for millions impacted by coronavirus lockdowns, in limbo.