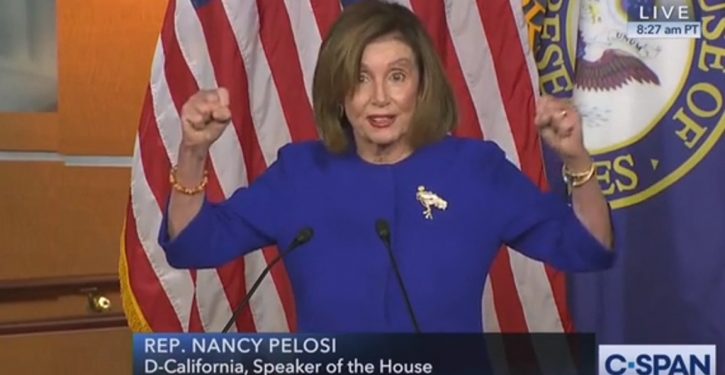 [Ed. – No one mentioned it, at any rate, if she was rolling on the floor laughing at her own sparkling ironic wit as she said it.]
Speaker Nancy Pelosi (D-Calif.) on Tuesday said she's hopeful Congress can reach on a deal a massive coronavirus relief package by day's end, but warned that Republican "poison pills" could gum up the process and prompt House Democrats to move their own legislation.

Pelosi said Democrats remain insistent that a $500 billion allotment to help major industries must include greater oversight and transparency …

If Senate and White House negotiators are able to iron out those differences, she said, the House could accept the Senate bill and likely pass it quickly by unanimous consent, allowing the House to remain in recess.

But she warned that she's ready to call the House back to Washington to move the Democrats' alternative proposal, unveiled Monday night, if her caucus deems the upper chamber bill too favorable toward corporations while neglecting workers and lower-income families.