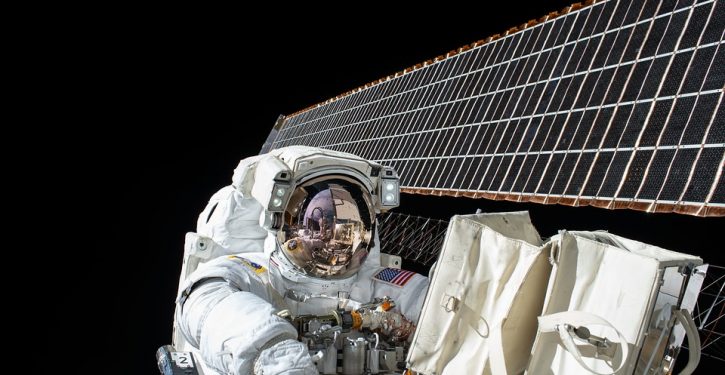 [Ed. – Congratulations to Christina Koch and Jessica Meir for their history-making walk.]
Astronauts Christina Koch and Jessica Meir were floating outside the International Space Station on a mission to replace a battery, a several-hour-long ordeal. "Space station, this is President Donald Trump, do you hear me?" Trump started the call, with Vice President Mike Pence and first daughter Ivanka Trump on either side, cameras in front of them. "We're thrilled to be speaking live with two brave American astronauts," he continued in his remarks, appearing to read from some notes. "This is the first time for a woman outside of the space station."

That is very incorrect: The first woman went outside of a space station in 1984. Women have been spacewalking for a while since. What is unique about Friday is that this is the first time everyone outside of the space station is a woman. …

It's a frustrating bit of audio to listen to. … [I]t grates to hear two women who are making history have to pause to gently—always gently—explain their history-making.
Trending: Media bury mass shooting because the shooter was black (but so were his victims)