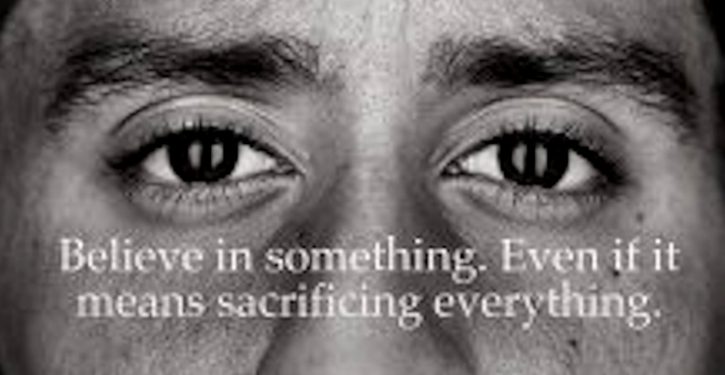 [Ed. – It takes a while for things like this to penetrate the fog in my brain, but I'm realizing that I don't actually need anything Nike sells.]
Nike has decided to pull their America-themed 4th of July sneakers which featured the "Betsy Ross" flag, after former NFL anthem-protester and Nike pitchman Colin Kaepernick raised concerns over the offensive symbolism he felt the flag displayed, the Wall Street Journal reports.

According to the WSJ:

The sneaker giant created the Air Max 1 USA in celebration of the July Fourth holiday, and it was slated to go on sale this week. The heel of the shoe featured a U.S. flag with 13 white stars in a circle, a design created during the American Revolution and commonly referred to as the Betsy Ross flag.

After shipping the shoes to retailers, Nike asked for them to be returned without explaining why, the people said. The shoes aren't available on Nike's own apps and websites. …

After images of the shoe were posted online, Mr. Kaepernick, a Nike endorser, reached out to company officials saying that he and others felt the Betsy Ross flag is an offensive symbol because of its connection to an era of slavery, the people said.