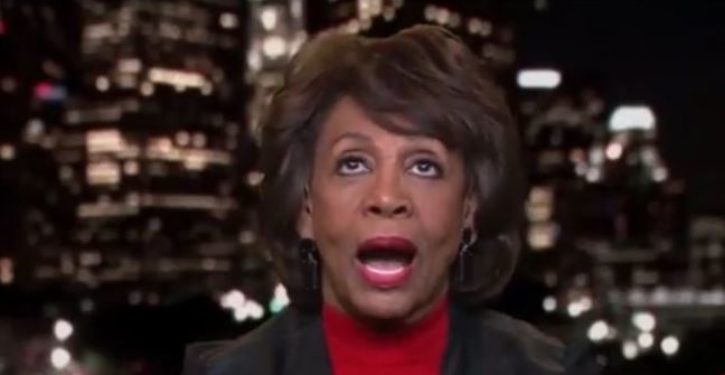 [Ed. – She's been good for a laugh, but with this comment she rises to the level of an unfunny joke. Time for 'Auntie Maxine' to retire and spend the fortune she amassed as a U.S. Congress member.]
Politics stops at the water's edge, as Arthur Vandenberg famously asserted during the Truman administration. But apparently not if the water in question is the Strait of Hormuz. And not if the politician in question is Congresswoman Maxine Waters (D – CA 43). After President Trump pulled the plug on the Iran counterstrike, you'd think that the move dovish Democrats would all be breathing a sigh of relief. (At least for a little while.) But Waters decided that she would lay into the President, claiming that the confrontational situation was our fault in the first place.
Trump, you get no credit for so-called stopping the strike against Iran. Why was the unmanned drone in Iran's airspace? Why the surveillance? Don't provoke and then pretend innocence.

— Maxine Waters (@RepMaxineWaters) June 23, 2019
Trending: First (possibly last) look at founders of newly 'liberated city' in Colorado

This prompted some immediate responses from some of her colleagues, including Dan Crenshaw.