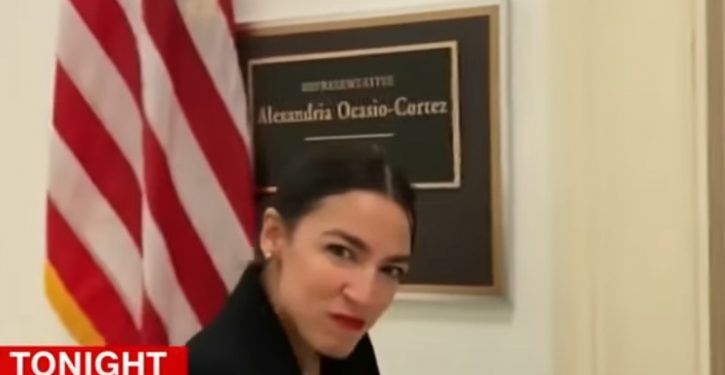 [Ed. – What does it say about our country that the endorsement of an airhead like Ocasio-Cortez is something to be coveted?]
Rep. Alexandria Ocasio-Cortez says she won't be giving her 2020 endorsement "any time soon," setting up a potential battle with Democratic contenders coveting a nod from the progressive congresswoman.

The freshman New York lawmaker would not reveal to ABC News Chief White House Correspondent Jon Karl whether Vermont Sen. Bernie Sanders or Elizabeth Warren of Massachusetts would earn her presidential endorsement during an appearance on "This Week with George Stephanopoulos" Sunday.

(Video: ABC News)

Trending: First (possibly last) look at founders of newly 'liberated city' in Colorado

"Are you going to endorse?" Karl questioned Ocasio-Cortez.

"Not now,' she replied, laughing.

"It's possible that I'll endorse later on perhaps, you know, I do not see myself endorsing any time soon. We haven't even had our first debates yet. I'm very interested in seeing how things play out. So we'll see," she added.

"Bernie Sanders just announced his list of New York endorsements. You obviously weren't on that list because you're not endorsing. Did he ask for your endorsement?" Karl asked.