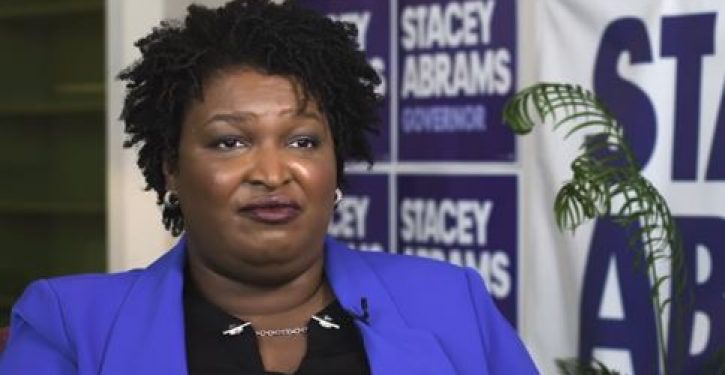 [Ed. – She becomes just the latest Democrat to refuse to concede the results of an election she lost. Yet, the Left keeps asking whether Donald Trump will stage a coup if he loses in 2020.]
Former Georgia Democratic gubernatorial candidate Stacey Abrams claimed that she won her election against Republican Gov. Brian Kemp, during an event on Thursday.

"I did win my election," she said, according to ABC News reporter Adam Kelsey. "I just didn't get to have the job."

Abrams, who's sparked 2020 speculation after meeting with Joe Biden this week, was then asked about the fact that she's never formally conceded to Kemp and she said she had no plans to do so.

Trending: CNN analyst slams Fox News Channel for daring to mention Joe Biden's health

The former minority leader of the Georgia House of Representatives has claimed on multiple occasions that Kemp, who ran for election while serving as the state's secretary of state, suppressed black and Democratic voters by removing them from the rolls and removing polling stations in black precincts.

Former Democratic presidential nominee Hillary Clinton echoed that sentiment earlier this month.
For your convenience, you may leave commments below using either the Spot.IM commenting system or the Facebook commenting system. If Spot.IM is not appearing for you, please disable AdBlock to leave a comment.