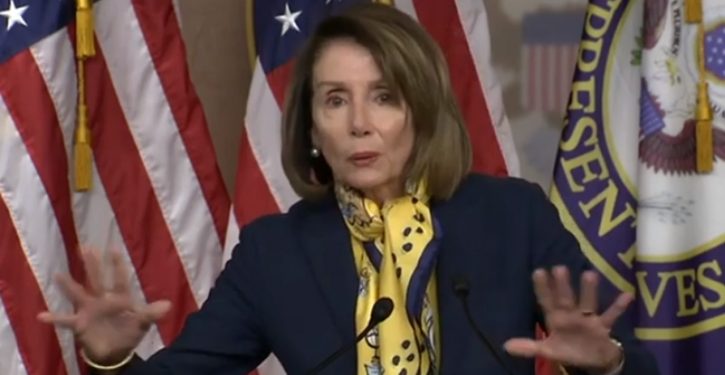 [Ed. – Looks pretty hopeless. See for yourself by checking out the video below. (For her sake, let's hope she's just drunk.)]
As things stand now, a House and Senate conference committee is the only hope that Democrats and Republicans can reach agreement on border security and avoid another government shutdown. The negotiations — such as they are, for a committee that has met briefly only once in more than a week — are ostensibly between Republicans and Democrats. But well-informed Republicans believe it is another set of talks — internal talks among Democrats — that will determine whether the committee succeeds and a shutdown is averted.

"This is not a negotiation between Republicans and Democrats," said one GOP lawmaker who is keeping close tabs on the process. "This is a negotiation between rank-and-file Democrats and Nancy Pelosi."

"That is unmistakably true," added a Republican who is taking part in the talks. "There are many reasonable voices within the Democratic conference who want to see a positive resolution here." The speaker of the House's "emboldened stance" — her decision to refuse to consider any funds for a border barrier — has been "very hurtful to the process," the lawmaker added.
Drunk as a skunk. pic.twitter.com/YBkmc7yeQ6

Trending: The ever-changing narrative of a man who brutally beat an elderly woman on a NYC subway

— James Woods (@RealJamesWoods) February 4, 2019
For your convenience, you may leave commments below using either the Spot.IM commenting system or the Facebook commenting system. If Spot.IM is not appearing for you, please disable AdBlock to leave a comment.