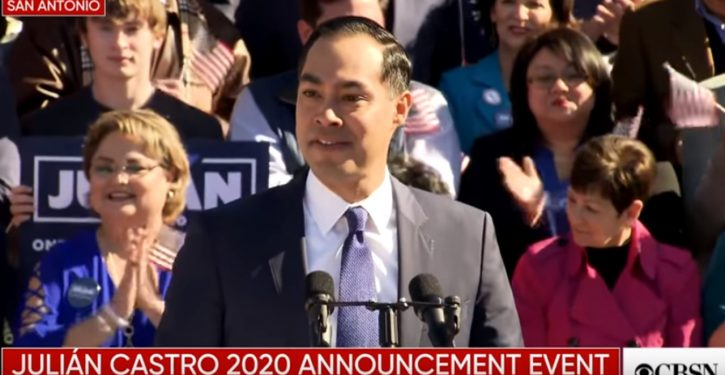 [Ed. – Not sure if people like Castro and Tulsi Gabbard think they actually have a chance.  Maybe their real goal is to use presidential primary runs to amass big war chests.  In any case, hearing echoes of the "I am Spartacus!" scene from the movie is…inevitable.]
Former San Antonio Mayor Julian Castro announced his 2020 presidential run on a stage in San Antonio, Texas Saturday afternoon. You may remember that the 44-year-old, who served under President Obama as HUD secretary, was on the short list of potential running mates for Democratic nominee Hillary Clinton in 2016.

In his announcement, Castro got a bit personal to explain how, "With big dreams and hard work, anything is possible in this country." …

Strategically, he reminded the crowd about his powerful speech at the Democratic National Convention in 2012. That platform has been a launching pad for the likes of Barack Obama and Bill Clinton, so it's no wonder he was eager for people to make the comparison.
Trending: CNN director: Matt Gaetz reporting is 'propaganda' to 'hurt him' because he's 'a problem for the Democratic Party'