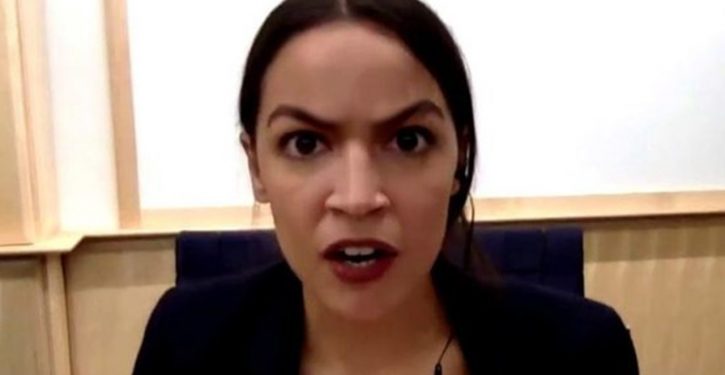 [Ed. – So she accepts 'Pinocchio' as a literal interpretation of 'lie' but protests when her untruths are characterized as 'whoppers'? Studying her brain might do much to advance medical science.]
Socialist Rep. Alexandria Ocasio-Cortez (D-NY) exploded on Monday after multiple left-wing publications fact-checked her and criticized her defense of the numerous falsehoods she has told.

The former bartender claimed on CBS News' "60 Minutes" on Sunday that people were too focused on being "factually" accurate, and not focused enough on being morally right, which drew widespread criticism.

That criticism carried over into news reports today from left-leaning publications, including The Washington Post and CNN, which published reports titled, "Alexandria Ocasio-Cortez's very bad defense of her falsehoods" and "Alexandria Ocasio-Cortez's very slippery slope on facts," respectively.

Trending: Cartoon of the Day: Size does matter

Even leftist Whoopi Goldberg slammed Ocasio-Cortez, advising her to "sit still for a minute and learn the job .. .before you start pooping on people and what they've done, you got to do something … "

Ocasio-Cortez then suggested that it was not fair that she was, in her own mind, being held to the same standards as President Donald Trump.
Thank you for sharing @washingtonpost's rubric!

Except the standard for "4 Pinocchios" just says: "Whoppers."

That's it. "Whoppers." As an official fact checking standard.

Cheeky, but really not okay to be held to a jokey standard when 45 is advancing conspiracy theories. https://t.co/eNw4e8jhIu

— Alexandria Ocasio-Cortez (@AOC) January 7, 2019
For your convenience, you may leave commments below using either the Spot.IM commenting system or the Facebook commenting system. If Spot.IM is not appearing for you, please disable AdBlock to leave a comment.