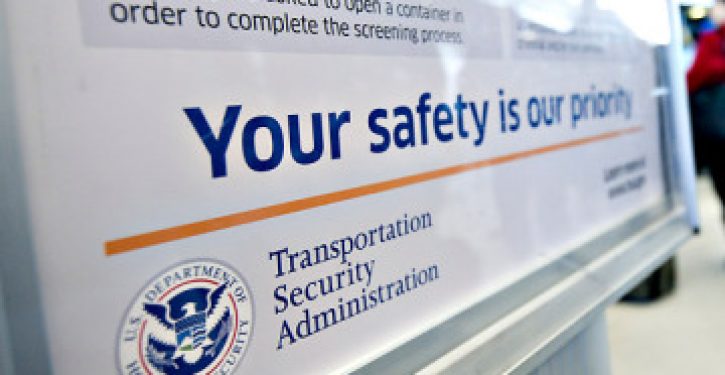 [Ed. – Hundreds, eh? Sounds pretty serious. In any case, email and phone Sen. Chuck Schumer and tell him what he's been telling the TV cameras, except blame him, not the president, for holding thousands of government workers hostage by refusing to fund the border wall.]
Hundreds of Transportation Security Administration officers, who are required to work without paychecks through the partial government shutdown, have called out from work this week from at least four major airports, according to two senior agency officials and three TSA employee union officials.

The mass call outs could inevitably mean air travel is less secure, especially as the shutdown enters its second week with no clear end to the political stalemate in sight.

"This will definitely affect the flying public who we (are) sworn to protect," Hydrick Thomas, president of the national TSA employee union, told CNN.

Trending: Biden daughter's diary spoke of being sexualized at young age, taking 'inappropriate' showers with Joe Biden

TSA spokesman Michael Bilello said the agency is "closely monitoring the situation" and that "screening wait times remain well within TSA standards," although that could change if the number of call outs increases.

At New York's John F. Kennedy International Airport, as many as 170 TSA employees have called out each day this week, Thomas tells CNN. Officers from a morning shift were required to work extra hours to cover the gaps.