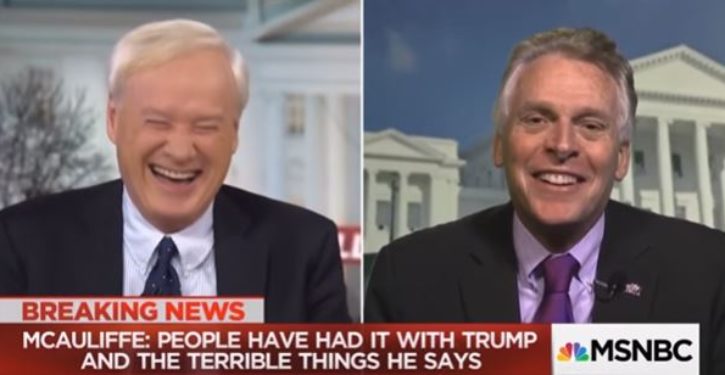 [Ed. – From the man who got tingles down his leg.]
1. Matthews Goes Ballistic Post-SOTU on MS-13, North Korea; Proclaims He 'Looked Up to Obama!'

Well after midnight, he lashed out at Trump for honoring parents of those lost to MS-13 gang violence. Earlier in the hour, he told this to liberal actor Bradley Whitford about former President Barack Obama: "I looked up to Obama. As a journalist,  I looked up to Obama. I don't mind saying so. Obviously."

[…]

Trending: Retired cop's guns confiscated, license revoked, based on word of waitress

3. Disgusting: Matthews Compares Defying the NRA to Assassinated Leaders Rabin, Sadat

Comparing the NRA and Second Amendment supporters to assassins, Matthews suggested this: "It's almost like the Middle East — it's almost like the Middle East if you sign a treaty and you're Anwar Sadat or Yitzhak Rabin, you do the right thing you get killed. You lost on this. Tom Foley lost on the issue."

[…]

5. What? Matthews Links Lefty Parkland Students to American Revolution, Lexington and Concord

A month and a half after Matthews compared these liberal Florida students to American soldiers in World War I, the host declared at the end of April 19'sHardball that the students led by David Hogg and Emma Gonzalez were just like the colonists who rose up against the British.