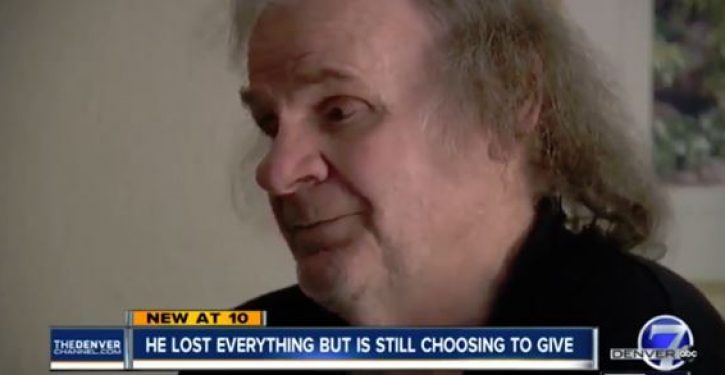 [Ed. – A heart-wrenching contrast to this story.]
A homeless man used what little he has to give a selfless gift during a toy drive at a local Walmart.

Glen McCarthy walked to Walmart and got a cup of coffee. He was touched by the toy drive that was going on. He ended up buying a Barbie and a Hot Wheels set, but he couldn't stop thinking about a bike he saw.

"And I looked at that bike, and the bike was marked $59, but the tag underneath it said $44," said McCarthy.

Trending: Sarah Sanders: Democrats accused Trump of 'treason.' Why she has a definitive point

It's not a lot of money for some, but for McCarthy, it was nearly everything. He went back to the hotel where he was staying and paid for another night. Back at the hotel, he still couldn't stop thinking about the bike.

He walked back to Walmart and asked about the bike since the tag listed two different prices. Once a clerk realized what he was doing, she told him that he could have the bike for $44.

[…]

McCarthy has always loved Christmas, and he realizes his time is running out. Doctors recently told him that his cancer is terminal, he has less than a year to live.
For your convenience, you may leave commments below using either the Spot.IM commenting system or the Facebook commenting system. If Spot.IM is not appearing for you, please disable AdBlock to leave a comment.