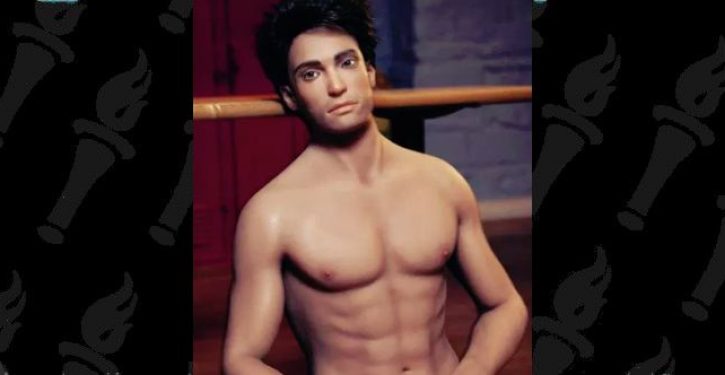 [Ed. – Another stop toward equality. Especially noteworthy is that the penis is detachable, a trait unavailable in most male sex partners.]
Henry might appear to be every heterosexual girl's dream, with his rugged appearance and angular cheekbones which have been compared to a "young Brad Pitt".

But whatever the claims of his performance between the sheets, he still can't take the bins out.

However, Henry does come equipped with a silicone penis that can be customised – though it's not yet bionic.

Trending: The ever-changing narrative of a man who brutally beat an elderly woman on a NYC subway

All 5′ 11″ of Henry can be yours for around £7,800 ($10,000) but the price varies depending on the specifications the buyer selects.

He's also well-equipped – in an AI sense – and can recite poetry or the lyrics to your favourite songs as well as tell jokes.

Henry can also welcome you home after a long day – all with a British accent, if you want.

The company does produce a range of male dolls, which can be customised to some extent.

While the basic dolls – also called Michael, Mick and Nate – have a basic design things such as eye and hair colour can be selected, as well as skin tone.

Buyers can also select penis type, which can be detachable.
For your convenience, you may leave commments below using either the Spot.IM commenting system or the Facebook commenting system. If Spot.IM is not appearing for you, please disable AdBlock to leave a comment.