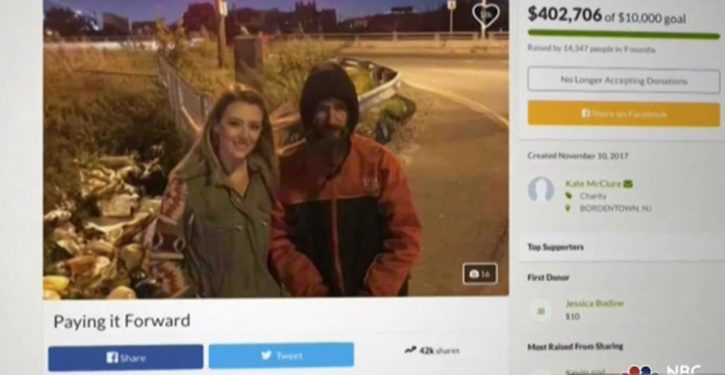 [Ed. – These are the folks who raised $400K in a GoFundMe account after the wife claimed the homeless man saved her bacon by giving her his "last $20."  The happy ending already fell apart when the participants started suing each other over the money.]
The couple who raised nearly half a million dollars for a homeless man after he gave his last $20 to the woman will face criminal charges as will the homeless man for making up the entire story, officials say.

"Mark D'Amico, Kate McClure and Johnny Bobbitt will face charges including conspiracy and theft by deception," NBC 10 reported on Wednesday.

NBC 10 reviewed a complaint that alleges the three "conspired with one another to make up a false story in order to raise more than $400,000." …

Trending: Retired cop's guns confiscated, license revoked, based on word of waitress

The three gained national attention last year after the couple claimed that Bobbitt gave his last $20 to help McClure purchase fuel after she ran out while driving on Interstate 95 in Philadelphia.