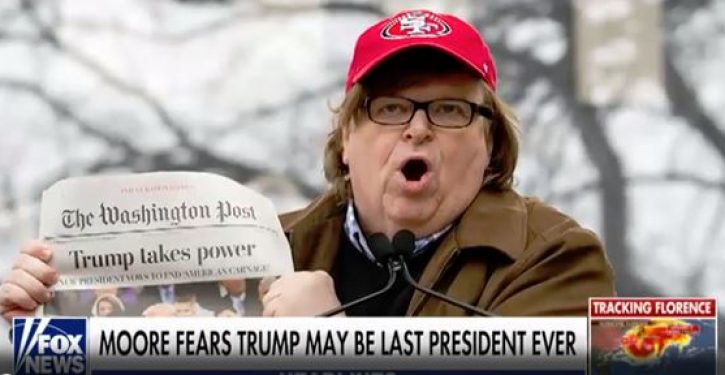 [Ed. – If he'd like, he can feel free to start the ball rolling.]
Left-wing filmmaker Michael Moore on Saturday cheered the "last days of the dying dinosaur" in which old white men are starting to give way to a younger, more diverse U.S. electorate.

Mr. Moore, a 64-year-old white man, spoke in front of a crowd at the Rome Film Festival after the Italian debut of his anti-President Trump film "Fahrenheit 11/9." He argued that Mr. Trump "won the white vote" but demographics are changing in Democrats' favor.

"What you need to understand about the U.S. now, is that it is changing very quickly," he said, according to The Hollywood Reporter. "Right now a little over two-thirds of the country who are eligible to vote are either women, people of color, or young adults between 18-35. That's the majority of America right now.

Trending: With removal of 'Stimulus' oversight IG, Trump is apparently right over the (Spygate) target again

"And they will determine the direction of the country," he continued. "These are the last days of the dying dinosaur, the old white man who has been making the decisions since the beginning of our time."

Mr. Moore also blamed Democrats for not trying to abolish the Electoral College back in 2000 after former President George W. Bush lost the popular vote to Al Gore.