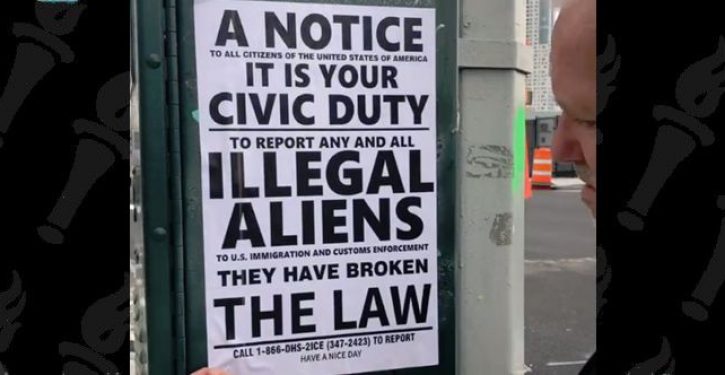 [Ed. – How does reporting illegal aliens intimidate legal immigrants? This is like claiming reporting thieves threatens other law-abiding citizens. – Dinesh D'Souza]
The message stopped Jimmy Van Bramer dead in his tracks.

The New York City councilman says he was jogging around his Sunnyside, Queens, neighborhood last Sunday when he came upon a flyer urging American citizens to report undocumented immigrants to US Immigration and Customs Enforcement.

"It sent chills through my body because it was ominous, it was dark and it was meant to intimidate immigrants," Van Bramer said in an interview with CNN.

Trending: Progressives wrongly blame pandemic for rise in violent crime in U.S.

The flyer reads: "A notice to all citizens of the United States of America: It is your civic duty to report any and all illegal aliens to U.S. Immigration and Customs Enforcement. They have broken the law." At the bottom, it lists a contact number for ICE.

The councilman, who represents the district, says he immediately took action. In a video posted to social media, he is seen tearing down the poster which had been glued to an electrical box. Since then, several more have popped up at nearby locations.