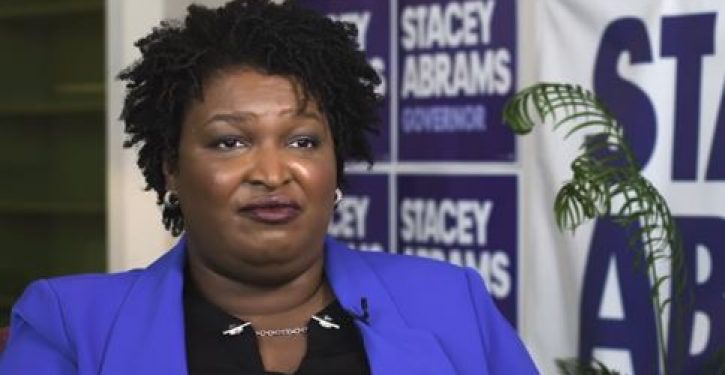 [Ed. – She's running for governor, and she's the candidate Eric Holder was there to endorse when he said Democrats "kick" Republicans.  Her actual words — the blue wave "is comprised of those who are documented and undocumented" — are grammatically incorrect, and we are sparing my sensibilities by not using them in the headline.  The correct usage would be something like "the blue wave will comprise documented and undocumented" voters.  Still clunky in terms of the metaphorical capabilities of "waves." I think I'd just pick another locution for the wave metaphor.]
Georgia's Democratic gubernatorial candidate Stacey Abrams said Tuesday the Democrats' "blue wave" in November would be comprised of those who are "documented and undocumented."

Abrams was speaking with supporters at the Clayton County campaign office during an event with Sen. Elizabeth Warren (D., Mass.). …

"The thing of it is, the blue wave is African American. It is white. It is Latino. It is Asian-Pacific Islander," she said, going through a diverse list of groups.

Trending: Cartoon of the Day: Size does matter

"It is made up of those who've been told that they are not worthy of being here. It is comprised of those who are documented and undocumented," she said.
For your convenience, you may leave commments below using either the Spot.IM commenting system or the Facebook commenting system. If Spot.IM is not appearing for you, please disable AdBlock to leave a comment.