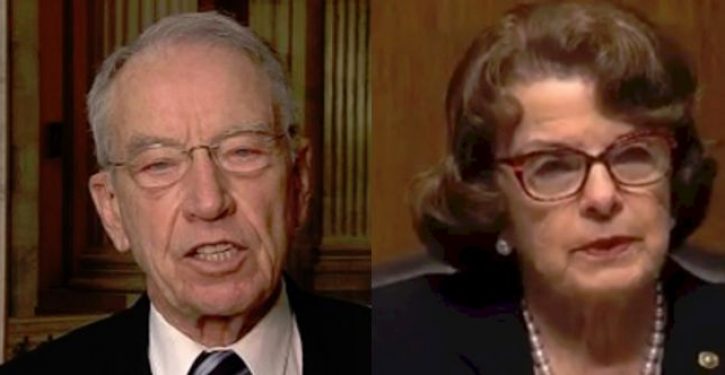 [Ed. – Tempers rising … finally]
Senate Judiciary Chairman Chuck Grassley (R-IA) sent ranking member of the Committee Dianne Feinstein (D-CA) a scathing letter Tuesday afternoon shooting down Feinstein's demands to postpone Thursday's hearing.

Grassley accused Feinstein and Senate Democrats of hiding Ford and Ramirez accusations from the Senate Judiciary Committee while secretly working with the mainstream media to circulate Kavanaugh smears.

Senator Grassley then warned about Ms. Ramirez's flimsy accusations against Kavanaugh as reported in the New Yorker, "As you know, false statements made to the press are not subject to criminal penalty, but false statements to Congress are."

Trending: Lawmaker who used low-quality green screen caught driving during Zoom meeting

Ranking member of the Senate Judiciary Committee Dianne Feinstein (D-CA) said on Tuesday afternoon that she has "no way of knowing" if Christine Ford will show up to Thursday's hearing to testify against Brett Kavanaugh.

Feinstein's statement was in response to the Senate Republicans hiring a female prosecutor experienced in sex crimes to question Christine Ford.