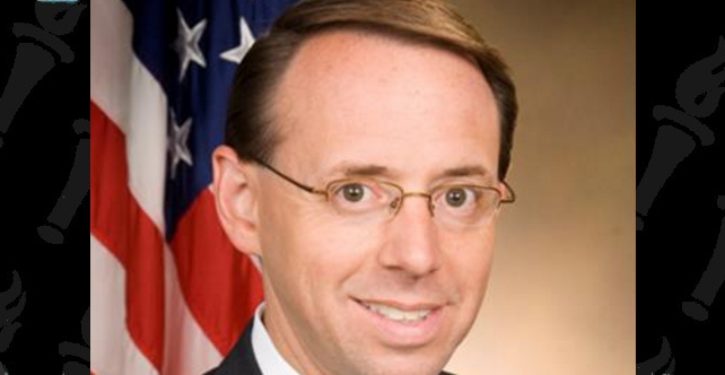 [Ed. – Reporting has been coy about this all day, apparently because the MSM who first reported it don't want to have to walk it back.  Fox News reporters have been tweeting throughout Monday that Rosenstein had not resigned and definitely was not fired.  Left-wing MSM went silent on updates after initial report about resignation.  Rosenstein attended a scheduled meeting Monday at the White House, although it's not clear he was specifically scheduled to be there.]
President Donald Trump and U.S. Deputy Attorney General Rod Rosenstein, who oversees the special counsel investigation into Russia's role in the 2016 presidential election, will meet on Thursday to discuss whether Rosenstein will stay in his job. …

The White House announced the meeting on Monday after a flurry of conflicting media reports about whether Rosenstein, a frequent target of Trump's anger, would be leaving the post.

"At the request of Deputy Attorney General Rod Rosenstein, he and President Trump had an extended conversation to discuss the recent news stories," White House spokeswoman Sarah Sanders said on Twitter.
Trending: FBI official confirms: Hillary Clinton private-server email records found in Obama White House
For your convenience, you may leave commments below using either the Spot.IM commenting system or the Facebook commenting system. If Spot.IM is not appearing for you, please disable AdBlock to leave a comment.