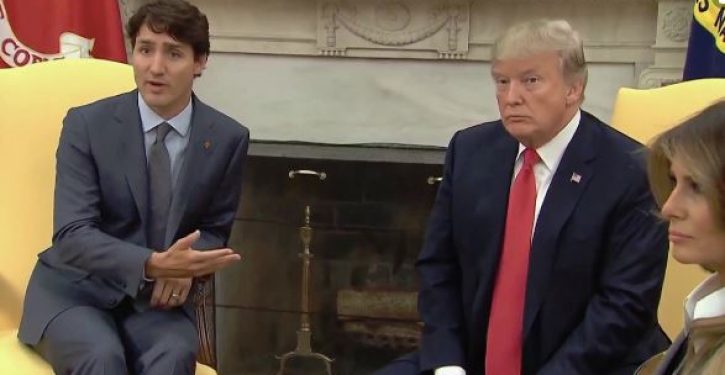 [Ed. – It's a truism that has become worth repeating: Our economy would not be helped by a trade war.]
President Trump said Canada would be left out of a new North American Free Trade Agreement if a "fair deal for the U.S." isn't reached — and warned Congress he would terminate the deal entirely if lawmakers "interfere" in the negotiations.

Mr. Trump's warning on Saturday comes a day after U.S. and Canadian negotiators failed to reach an agreement on Friday, a deadline he set, to revamp the trade deal that includes Mexico. The two sides have agreed to continue the trade talks.

His threat via Twitter coincided with the services at Washington National Cathedral attended by many congressional leaders for the late Republican Arizona Senator John McCain, a frequent adversary.

Trending: Saudi Arabia beheads young man headed to college in U.S.

"There is no political necessity to keep Canada in the new NAFTA deal," Mr. Trump tweeted. "If we don't make a fair deal for the U.S. after decade of abuse, Canada will be out. Congress should not interfere with these negotiations or I will simply terminate NAFTA entirely & we will be far better off." He and other senior U.S. officials have indicated a willingness to replace Nafta with a bilateral Mexico deal in the event Canada and the U.S. can't resolve differences.
For your convenience, you may leave commments below using either the Spot.IM commenting system or the Facebook commenting system. If Spot.IM is not appearing for you, please disable AdBlock to leave a comment.