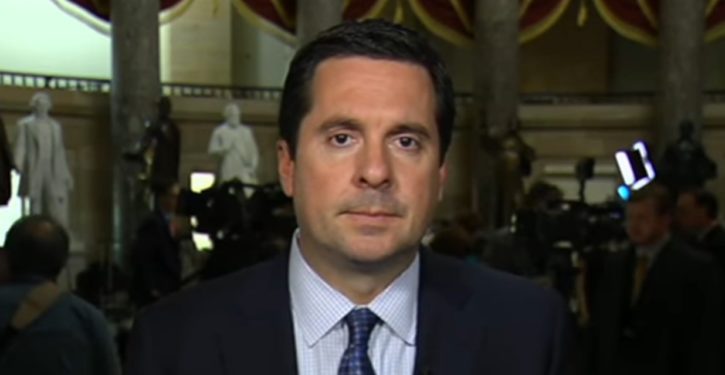 [Ed. – Sounds like it really is that bad. Dubiously sourced and denied on the record by a House Intelligence Committee official.  But, as Julie Kelly notes, used as a "hook" for the real point of the original writer's piece: to smear Nunes' motives and methods.]
Bertrand's dubious article quickly filled the anti-Trump media echo chamber that has been gunning for Nunes since he started uncovering the Russiagate scandal. A Slate headline blared "Devin Nunes Went to London to Get Dirt on Christopher Steele. Britain's Spies Wouldn't Meet With Him," and criticized congressional Republicans for their "assault on the credibility of Steele." …

But one minor problem with Bertrand's London trip saga: None of it is true. A spokesman for the House Intelligence Committee denied every aspect of her story.

"While in London, Chairman Nunes did not discuss Christopher Steele in any meetings, he did not try to schedule any meetings to discuss Steele, and he did not seek out or request any information whatsoever related to Steele," Jack Langer wrote to me in an email Friday. …

Trending: Los Angeles starts to defund its police

Further, Nunes was only in London for less than 24 hours and the stop was part of a multi-country trip the Congressman took earlier this month to visit U.S. troops and foreign officials.