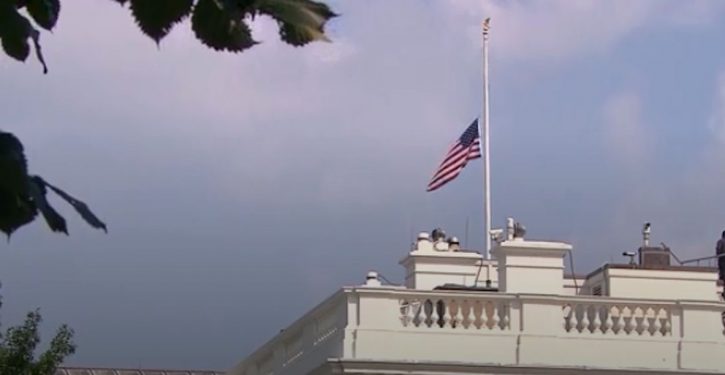 [Ed. – An update to the earlier story. I think most of us understand that there is literally nothing Trump could do to avoid being bashed during the mourning and burial period for McCain.  (Numerous people pointed out on social media that returning the White House flag to full mast on Monday — 2nd day after death — is the prescribed protocol after the death of a member of Congress.  If Trump failed to stay ahead of that protocol-vs-sentiments of the moment conflict, my read on him is that it's because he doesn't viscerally feel the vibes of the D.C. tribal culture.  It's not the first thing that matters to him.  He'd probably care more about ritual observance for the death of some average American he heard about than any senator's death.  That's why they hate him so much in Washington.)]
The White House on Monday afternoon re-lowered its flags to half staff after drawing significant backlash for returning them to full staff less than 48 hours after the death of Sen. John McCain (R-Ariz.).

Multiple reporters noted on social media that the flags were flying at half staff once again as of roughly 3:45 p.m. President Trump issued a proclamation a short time later ordering flags at government buildings remain at half staff to honor McCain.
For your convenience, you may leave commments below using either the Spot.IM commenting system or the Facebook commenting system. If Spot.IM is not appearing for you, please disable AdBlock to leave a comment.