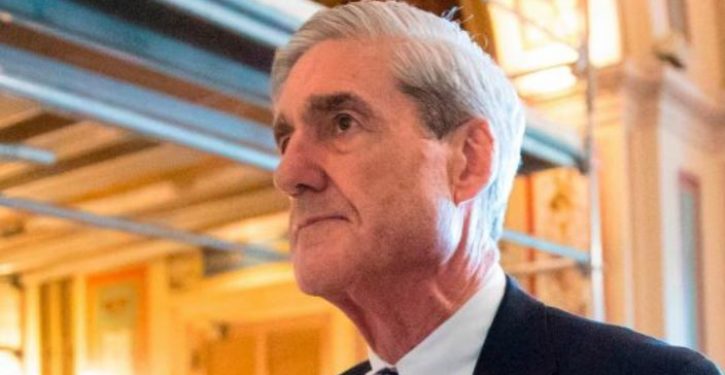 [Ed. – As Breitbart points out, Mueller is not adding to his team.  He's invoking an option for more resources from the Justice Department to work on his prosecutions.  This actually raises the question, however, why he couldn't just refer those prosecutions to the DOJ in the first place.  Probably because they wouldn't be a priority for the DOJ under the normal hierarchy of what matters.  A good point to ponder.]
Special Counsel Robert Mueller is reportedly tapping "additional Justice Department resources" for help with new legal battles, which will increase the costs of the more than $17 million investigation of Russian meddling in the 2016 presidential campaign.

Bloomberg News reported Thursday that Mueller is tapping more FBI agents, in addition to career prosecutors, to work on the probe. …

Mueller requested the help of four more prosecutors in May and June, in addition to his 17-lawyer team.

Trending: BREAKING: U.S. Federal Reserve system down; banks unable to make e-transfers; *UPDATE*

Those lawyers are Uzo Asonye from the U.S. Attorney's Office for the Eastern District of Virginia, and Jonathan Kravis, Deborah Curtis, and Kathryn Rakoczky, from the U.S. Attorney's Office for the District of Columbia.

Investigators in New York and Pittsburgh have also been tapped to supplement Mueller's team.