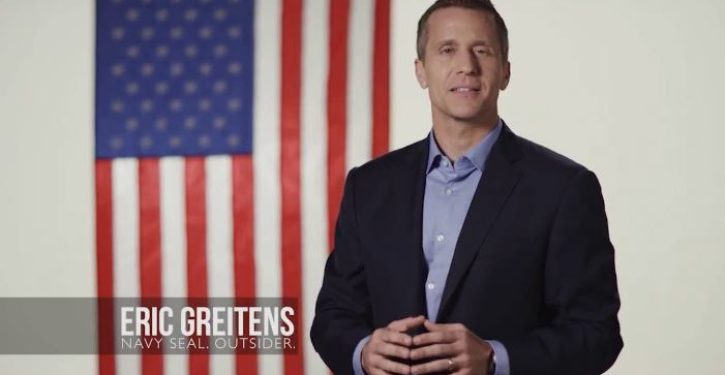 [Ed. – Lawmakers say the impeachment trial is still on.  This is the ugly case in which Greitens (R) is said to have gotten humiliating video of a woman he had an affair with, as an "insurance policy" against later revelations.  Ugh and gack all around.]
In a stunning development, St. Louis Circuit Attorney Kim Gardner on Monday dropped her prosecution of Missouri Gov. Eric Greitens in the face of the defense team's plan to call her as a witness.

Yet Republican legislative leaders said later that evening that Gardner's decision would have no impact whatsoever on whether the Missouri General Assembly moves forward with impeachment, a process set to begin at 6:30 p.m. Friday. …

Scott Rosenblum, a member of Greitens' team, said the judge's decision [to allow the Greitens defense to call her as a witness – Ed.] was based on the probability that Gardner had knowledge of perjury committed by a private investigator hired by her office.

Trending: Student wrongly arrested for rating female classmates on Twitter

"She made herself a witness to the perjury that her investigator created throughout this case and his misconduct. She was the only witness," Rosenblum said.
For your convenience, you may leave commments below using either the Spot.IM commenting system or the Facebook commenting system. If Spot.IM is not appearing for you, please disable AdBlock to leave a comment.