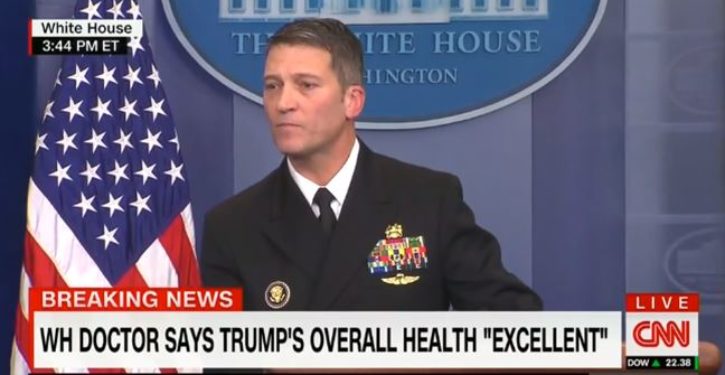 [Ed. – The cesspool this seems to go into is hardly worth knowing about, unless you need more convincing that Jackson was run over by a smear job.  The link (elsewhere in the story) on former behavior from the alleged complainant can't be verified, so take it for what it's worth.  The whole thing just seems to be emblematic of the fetid swamp Washington has become.]
According to four administration officials, the unsubstantiated rumors and accusations targeting Jackson were brought to the attention of Democrats on the Committee on Veterans' Affairs by Vice President Mike Pence's Army physician Dr. Jennifer Pena. Sen. Jon Tester (D-Mont.) shared Pena's allegations with the media, including charges that Jackson created a hostile work environment, drank on the job, and improperly handed out prescription drugs, including the sleep aid Ambien for overseas trips.

Pena, who is assigned to Pence by the White House Medical Unit, reportedly "has held a long-time grudge against Jackson because of his continuing promotions in the White House."

She began her career at the White House during the Obama administration. According to the officials, Pena, who is still active military and assigned to the White House Military Office, did not follow proper protocol to report on the allegations. Instead, she went directly to the Senate with the support of some current and former White House medical staff who were her loyalists. None of the allegations she allegedly brought forth have been substantiated.