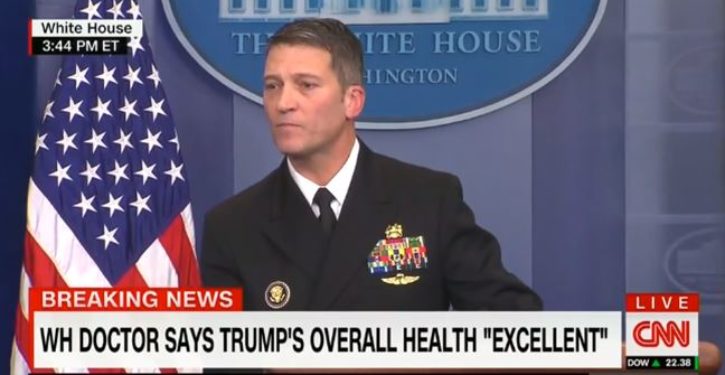 [Ed. – The line has been crossed.  Our media have officially become the propaganda office of the Soviet Union.  This media incontinence is simply deranged.  It's remarkable when you think about it: the Trump White House that is depicted as a den of mental chaos is actually a steady sanctuary for the weary hearts of the Trump officials being incessantly lied about by the media.]
Over the weekend multiple media outlets reported Dr. Ronny Jackson was leaving the White House immediately and would not resume his duties as President Trump's physician.

The White House is pushing back on those reports and says Dr. Jackson will resume his duties after withdrawing his nomination for Secretary of Veteran's Affairs.

"Rear Admiral Ronny Jackson is currently on active duty, assigned to the White House as Deputy Assistant to the President. Despite published reports, there are no personnel announcements at this time," White House Principal Deputy Press Secretary Raj Shah released in a statement Monday morning.

Trending: Note: Report that 'militia' group is planning attack on U.S. Capitol makes no sense

When Jackson withdrew his name last week, Senior Advisor to the President Ivanka Trump confirmed Jackson would remain in his post.