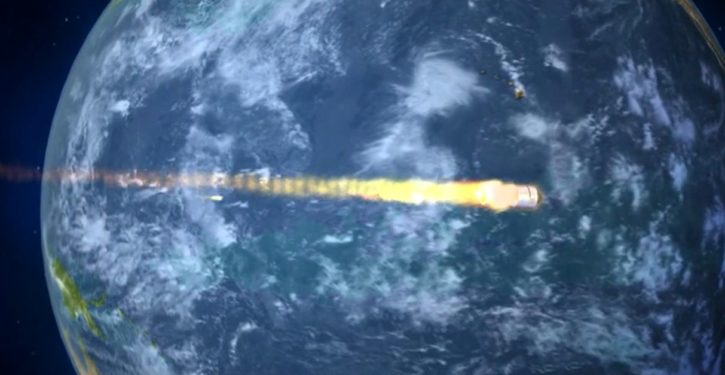 [Ed. – Well, that was exciting.  Looks like Michigan can stand down.]
China's out of control Tiangong 1 space station smashed into Earth at 17,000mph off the coast of Tahiti on Monday morning and mostly disintegrated as it hit the planet's atmosphere. …

Experts had been unable to predict where the installation, which is roughly the size of a school bus, would come down but in the end it re-entered the earth's atmosphere over the South Pacific.

The craft re-entered the atmosphere around 8.15am Beijing time (0015GMT) and the 'vast majority' of it had burnt up upon re-entry, the China Manned Space Engineering Office said.

Trending: Cartoon of the Day: Looney Toons

Just minutes before, their best estimate predicted that it was expected to re-enter off the Brazilian coast in the South Atlantic near the cities of Sao Paulo and Rio de Janeiro.
For your convenience, you may leave commments below using either the Spot.IM commenting system or the Facebook commenting system. If Spot.IM is not appearing for you, please disable AdBlock to leave a comment.