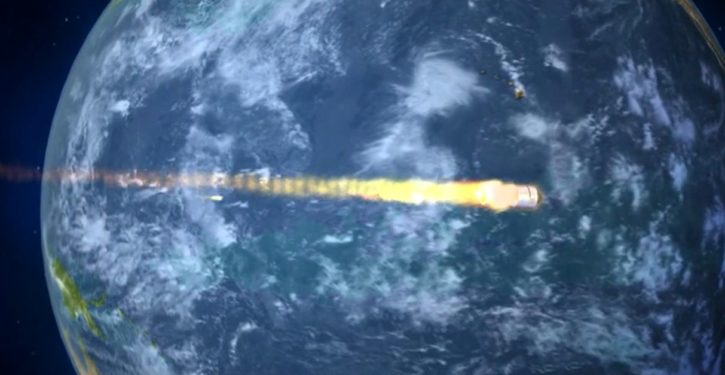 [Ed. – Well, that was exciting.  Looks like Michigan can stand down.]
China's out of control Tiangong 1 space station smashed into Earth at 17,000mph off the coast of Tahiti on Monday morning and mostly disintegrated as it hit the planet's atmosphere. …

Experts had been unable to predict where the installation, which is roughly the size of a school bus, would come down but in the end it re-entered the earth's atmosphere over the South Pacific.

The craft re-entered the atmosphere around 8.15am Beijing time (0015GMT) and the 'vast majority' of it had burnt up upon re-entry, the China Manned Space Engineering Office said.

Trending: You know what else is wrong with whites? They're hung up on things like punctuality and rules

Just minutes before, their best estimate predicted that it was expected to re-enter off the Brazilian coast in the South Atlantic near the cities of Sao Paulo and Rio de Janeiro.