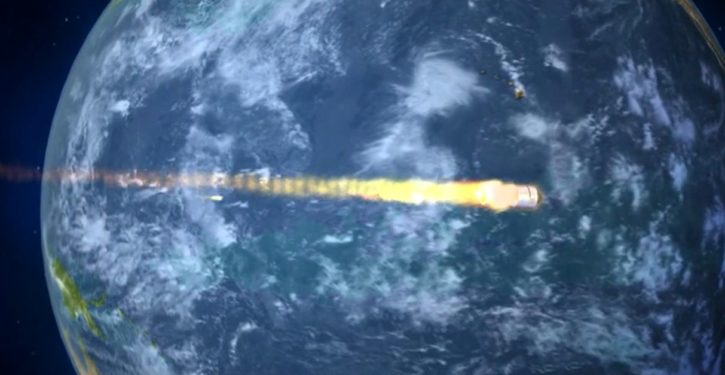 [Ed. – Michigan, for one, is getting ready.  The lack of specificity about where the remaining part(s) could land (after most of it burns up) makes it hard to do much more than issue warnings and have some guys with their cell phones on.  At least there's a fairly good estimate of WHEN reentry will occur.  Projected time and location of crash will of course resolve from there, as it happens.]
Tiangong 1, China's defunct and reportedly out-of-control space station, is about to re-enter Earth's atmosphere and on Saturday the European Space Agency released new tracking information on the falling spacecraft. ESA officials are now targeting 7:25 p.m. EDT (2325 GMT) Sunday as the likely time for re-rentry.

Meanwhile, the Aerospace Corp. is now forecasting a 4:30 p.m. EDT (2030 GMT) crash on Sunday, give or take eight hours. …

Western space experts say they believe China has lost control of the station. China's chief space laboratory designer Zhu Zongpeng has denied Tiangong was out of control, but hasn't provided specifics on what, if anything, China is doing to guide the craft's re-entry.

Trending: Driver cases out, then deliberately runs down, two young boys on suburban sidewalk

Based on Tiangong 1's orbit, it will come to Earth somewhere between latitudes of 43 degrees north and 43 degrees south, or roughly somewhere over most of the United States, China, Africa, southern Europe, Australia and South America. Out of range are Russia, Canada and northern Europe.
For your convenience, you may leave commments below using either the Spot.IM commenting system or the Facebook commenting system. If Spot.IM is not appearing for you, please disable AdBlock to leave a comment.