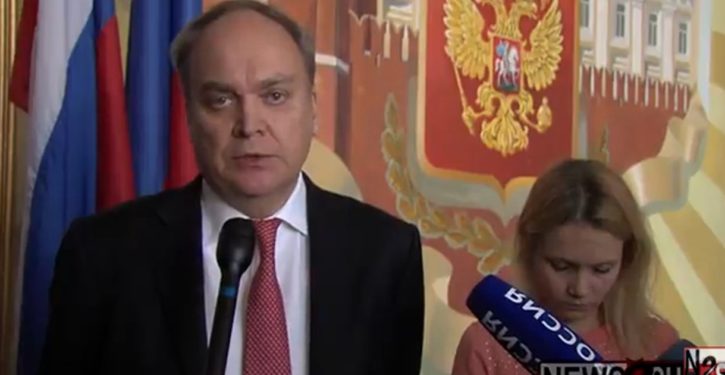 [Ed. – More afraid of Mueller and the rumor-fanning media than of anything or anyone else.  Last time Trump met with a Russian ambassador, he was accused of leaking sensitive secrets about Israeli intel. No matter how many times "only grown-up in the room" H.R. McMaster said categorically it didn't happen, the MSM have continued to repeat the story.]
Anatoly Antonov has been rebuffed by U.S. government officials who are reluctant to be seen as friendly toward the Kremlin.

Congressional leaders won't meet with him. Neither will the vice president or the White House chief of staff.

And the Russian ambassador says he is at his wit's end.

Trending: You know what else is wrong with whites? They're hung up on things like punctuality and rules

In a letter to Sen. Orrin Hatch (R-Utah) earlier this month, Anatoly Antonov asked for help in obtaining meetings with a slew of U.S. lawmakers and officials. The March 9 letter was written two days after a POLITICO story detailed some of Antonov's travails in securing meetings in Washington.

Antonov went on to list 20 top U.S. elected and administration officials that have refused or ignored his requests for meetings. White House chief of staff John Kelly, House Minority Leader Nancy Pelosi (D-Calif.) and Defense Department undersecretary of defense for policy John Rood are all listed as "officially" declining Antonov's overtures.